Anthony Bourdain's Bone In The Throat Heading To Big Screen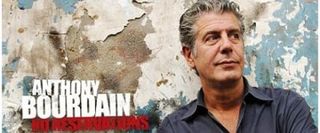 Writers often are advised to write about what they know, so when celebrity chef and world traveler Anthony Bourdain decided to write a fictional novel he cooked up a murder-mystery set largely in an Italian kitchen that involved mobsters, a top chef and the FBI. Now that story is heading to the big screen.
Titled Bone in the Throat, Bourdain's best-selling book has been picked up by the L.A.-based Dignity Film Finance and is being fast-tracked into production, according to THR. The King's Speech producer Peter Heslop will back Bourdain's book, which follows an up-and-coming cook named Tommy who takes a gig at his uncle's restaurant, only to find that the scene is peppered with sketchy Wise Guys. Amazon compares Bourdain's story to Prizi's Honor, but we're going to dial back any expectations until we start to see how this project shapes up.
The deal was brokered at the Cannes Film Festival. And while Bourdain's name attached to the project will be enough to lure a few moviegoers into theaters, the rest of us who don't normally watch the chef on television will need to wait and see who is cast in the picture, and who will helm from the director's chair. In this era of superhero films and board-game adaptations, we've been short-changed on decent Mafia movies. Who will step in and take Martin Scorsese's place as a competent crime-thriller director? This could be an excellent entracepoint for an up-and-coming gangster director. Let's see what decisions Dignity makes as Bone makes its way to our proverbial plate.
Managing Director at CinemaBlend. ReelBlend cohost. A movie junkie who's Infatuated with comic-book films. Helped get the Snyder Cut released, then wrote a book about it.