Arcade Fire's Her Score Available Online For Free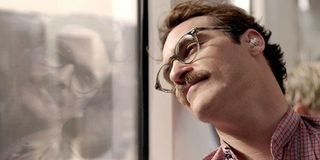 Two of the five Oscar nominations for Spike Jonze's Her were for Best Original Song and Best Original Score, the only film to receive accolades in both categories this year. Consider it a testament to the film's aural soundscape, provided by the Grammy-winning Arcade Fire and their collaboration with Owen Pallett, the artist formerly know as Final Fantasy. The sparse tracks capture the loneliness and ultimate hollowness of Theodore's Los Angeles, emphasizing both the kind gentility of this future, as well as its melancholy loneliness. Most future films opt for an electronic edge to their music, but in Her, guitars and pianos still rule, though they feel like the world's loneliest instruments.
Ahead of its commercial release, the score has hit the internet (but not the original songs, sadly), and The Playlist has preserved them. You won't get to hear Karen O's nominated The Moon Song, but you will get to hear an instrumental of the end-credits tune Supersymmetry, which in the film is sung by LCD Soundsystem's James Murphy and can be found on Arcade Fire's Reflektor. You'll also get to hear the piano tracks Song On The Beach and Photograph which seem primarily from Mr. Pallett, one of the world's most skilled pianists.
If you're looking for Avril 14th, overheard in the trailers, sadly that's not here, as it's an original composition by Aphex Twin that dates back to his album Drukqs from 2001. As for the rest of these tracks? You're not gonna get to own them: EW claims the WB will not release an official score. Which is a bit sad, since all we have is this For Your Consideration copy to listen to, but it's better than nothing, no?
The film (which is not a topic you should not approach Siri with) remains in contention for Best Picture at the Oscars this year, though without any acting or directing nominations (snubbery!) it appears to be a longshot. It also hasn't exactly set the world on fire at the box office, where the film has collected only slightly more than $16 million in its six weeks of release. The only Best Picture nominee to make less so far is Nebraska, and that film is getting a nationwide expansion this weekend. So if listening to the score brings out certain emotions, please find a way to head to the theater and see one of the year's most touching films.
Your Daily Blend of Entertainment News
Thank you for signing up to CinemaBlend. You will receive a verification email shortly.
There was a problem. Please refresh the page and try again.