Argo Triumphs, But Not By Much, At Academy Awards That Spread The Love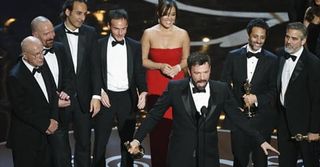 When The King's Speech took home Best Picture two years ago with just three other Oscar statues to its name, it was a sign of its season-long battle against The Social Network. When Crash won just three in 2006, it was evidence of its last-minute surge to win the prize, surprise the hell out of presumed frontrunner Brokeback Mountain.
Tonight Argo won Best Picture in addition to just two other prizes, but it's not because it was a weak competitor or had to beat out just one other film to get there. A presumed Best Picture frontrunner for weeks before the ceremony began, Argo was the victor in what's been a spectacularly competitive Oscar season, culminating in a ceremony in which it's hard to claim that just one film came out on top. In fact Life of Pi had it beat with four statues, including Ang Lee's win for Best Director-- a category in which Ben Affleck wasn't even nominated. Les Miserables beat Argo or Sound Mixing. Zero Dark Thirty and Skyfall (in an incredibly rare tie) beat it for Sound Editing. There were two Oscars for Lincoln, two for Django Unchained, two for Les Miserables and even two for Skyfall; you'd imagine this was the kind of year in which they'd add 10 more categories just to be able to reward more films that they loved.
Argo's Best Picture win can be chalked up to plenty of things, from sympathy for Ben Affleck after being left out of Best Director to a canny marketing campaign to the simple fact that Hollywood insiders want to vote for a feel-good movie in which Hollywood helps save peoples' lives. Most people can probably admit that it's a deserving winner, no matter how much they might have preferred something else (I was rooting for Lincoln). But the way all these wins were spread around is just final proof of what an excellent movie year that 2012 was, and a sign that no matter how many "narratives" we see driving the awards race, it comes down to people voting for what they liked. And they liked a lot of stuff this year-- just like the moviegoers did, as evidenced by 7 of the 9 Best Picture nominees making more than $100 million. See? Oscar voters aren't so different from you and me after all.
For the full list of Oscar winners, click here.
Photo Credit ©ABC
Staff Writer at CinemaBlend
Your Daily Blend of Entertainment News
Thank you for signing up to CinemaBlend. You will receive a verification email shortly.
There was a problem. Please refresh the page and try again.