Arnold Schwarzenegger Made A Strange Deal To Keep One Batman & Robin Prop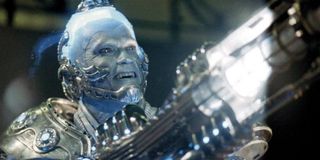 What sort of hoops would you jump through in order to take home a piece of movie history? Would you pay $1 a year? That's what Arnold Schwarzenegger continues to do to keep one of his Mr. Freeze costumes.
The folks behind the George Clooney-led Batman & Robin had to keep tabs on all the props and costumes left over from the shoot, because just about everyone wanted to take something home, including Arnold Schwarzenegger. In a recent feature published in The Hollywood Reporter, the film's director (Joel Schumacher), screenwriters (Lee Batchler and Janet Scott Batchler), producer (Peter Macgregor-Scott), production designer (Barbara Ling) and cinematographer (Stephen Goldblatt) recounted tales from the infamous production. Among the stories told, Macgregor-Scott revealed Schwarzenegger's odd deal to keep his hands on his character's suit.
Batman & Robin was not the greatest comic book adaptation, but it has its small cult following of fans. It featured Clooney as Bruce Wayne/Batman, Chris O'Donnell as Dick Grayson/Robin, Alicia Silverstone as Barbara Wilson/Batgirl and Uma Thurman as Pamela Isley/Poison Ivy. Suffice to say, there was a lot going on, but Schwarzenegger doesn't regret taking on the icy role. In 2012, the actor discussed the experience with Empire magazine. At the time, he thought the character was interesting and that Schumacher was at the height of his career. With Warner Bros. practically begging him to star as the classic comic book villain, he had few reasons to say no. Schumacher, though, wasn't so forgiving of his own efforts. While he praised Arnold's work ("Arnold is Arnold"), he blames himself for making a bad film. At the very least, we have such cheese-tastic lines like this gem.
Batman will return to the screen next year with the coming of Batman v Superman: Dawn of Justice on March 25, 2016. Ben Affleck is the latest actor to suit up as The Dark Knight, after Christian Bale so successfully led the Christopher Nolan-directed films. But, for better or worse, none of us will ever forget Clooney's film and, therefore, Arnold's Mr. Freeze.
Your Daily Blend of Entertainment News
Thank you for signing up to CinemaBlend. You will receive a verification email shortly.
There was a problem. Please refresh the page and try again.