Watch George Clooney Apologize For Ruining Batman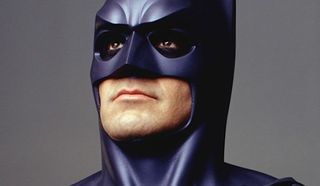 At this point, the dead horse of an observation rightfully identifying 1997's Batman & Robin as an unwatchable abomination has been beaten beyond use for even a glue factory. Yet, for George Clooney, the stigma of headlining that horror still stings. In a recent interview, Clooney reinforces his regret with an apology to moviegoers.
Recently appearing on The Graham Norton Show alongside his Tomorrowland castmates to promote their film, the topic shifted to their experience promoting the film at Comic-Con in New York last fall, which prompted Clooney to recall his perpetual Batman & Robin repentance. As Clooney confesses:
Of course, that "somebody" referred to director, Christopher Nolan in his dramatic, highly-regarded relaunch of the franchise starting with 2005's Batman Begins. Yet, nearly two decades removed from his one and only tenure in the cape and cowl, this was hardly the first time that Clooney has expressed contrition. In fact, his choice of words, indicating that he and he alone had "destroyed" the Batman franchise seems to be a bit in the spirit of taking one for the team. As Clooney continues:
While the idea that Batman & Robin was an artistic disaster is widely acknowledged, Clooney's culpability in that film's status is questionable. There were so many other aspects that sunk this movie and Clooney's performance, while not particularly exceptional, was serviceable enough and far from the most notable flaw of the film. In fact, director, Joel Schumacher has gone on record saying that his own direction was at fault, rather than Clooney's performance.
However, at the aforementioned surprise appearance at NYCC, Clooney apparently still took time to apologize to the iconic television Batman, Adam West for the inexplicable molded nipples on his bat-suit and for Arnold Schwarzenegger's Mr. Freeze, overall. Clooney's self-consciousness with his performance also inspired him to humorously recall the logistical crucible that was the B&R shoot, pointing to the difficulty of acting dramatically in a bat-suit that he describes as brutal, approximately weighing 60 lbs. while taking direction from Schumacher over a microphone.
Those were just a few heinous highlights from a film chock full of cinematic crimes. Cinematic scholars could write volumes of books pointing to the ways in which Batman & Robin exists as a wart on the annals of the franchise and cinema in general. While it's debatable if George Clooney was a notable reason, it would nevertheless take a more serious run by Christian Bale to wash away the campy neon-colored stains from the franchise. Now, that ball is in Ben Affleck's court as he readies his own debut as the Dark Knight in Batman v Superman: Dawn of Justice on March 25, 2016. Only time will tell if he ends up having to be equally apologetic.
Your Daily Blend of Entertainment News