August: Osage County Adds Boardwalk Empire's Julianne Nicholson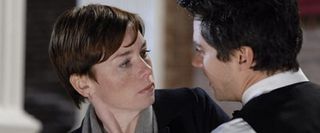 After a strong arc as Assistant US Attorney Esther Randolph on Boardwalk Empire, plus a major supporting turn in this year's indie favorite Keep the Lights On, Julianne Nicholson is turning her hot streak into a role in one of the most prestigious upcoming projects out there. The New York-based actress is now set to join the starry Broadway adaptation August: Osage County, headlined by Meryl Streep in the meaty role of the pill-popping matriarch of a sprawling Oklahoma family, all of whom are falling apart in various ways when they reunite after the disappearance of their father.
According to Deadline Nicholson will play Ivy Weston, the middle daughter of Streep's character Violet. Unlike her sisters Barbara (Julia Roberts) and Karen (Juliette Lewis), Ivy stuck around her hometown, and is carrying on a secret affair with her cousin Little Charles (Benedict Cumberbatch), with plans to move to New York together and escape their claustrophobic family lives. Ivy and Little Charles might have the most scandalous relationship in the family, but it's barely the most complicated-- though very funny and clever, August: Osage County as a play is three hours of airing family grievances, with Barbara and Violet getting into some of the most unforgettable throw downs you've ever seen.
Obviously Streep and Roberts are up to that task, and the rest of the cast-- which includes Margo Martindale, Chris Cooper, Ewan McGregor, Abigail Breslin and Dermot Mulroney-- ought to be able to provide plenty of fireworks of their own. August: Osage County is going into production soon on location in Oklahoma, with TV veteran John Wells-- who made his feature directing debut with The Company Men-- behind the camera. Grant Heslov is also producing alongside George Clooney, just in case you thought there wasn't enough star power involved. Set room aside for this one somewhere in the Oscar madness of 2013.
Staff Writer at CinemaBlend