The Avengers Makes $20 Million At Midnight Showings, But Can't Beat Harry Potter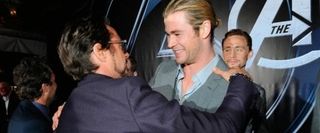 The Avengers is clearly off to an incredible box office weekend, with a head start internationally that already gives it $281 million in the bank, and a midnight opening last night that sets it up for a very, very big weekend. Though it didn't do quite well enough to unseat the midnight box office champion Harry Potter and the Deathly Hallows: Part 2, which earned $43.5 million from midnights alone, The Avengers notched somewhere between $18 and $20 million last night at North American theaters, according to numbers at Deadline.
Those numbers may not be enough to beat the Twilights and Harry Potters of the world, but they're way ahead of other landmarks in the Marvel franchise-- Thor debuted at midnight to $3.25 million on its way to $65 million weekend last summer, Captain America got $4 million from midnight screenings a few months later as part of another $65 million opening, and Iron Man 2 made $7.5 million of its $128 million opening from midnights. The Avengers is going to blow past all of those opening weekends-- current estimates at Deadline have it making $160 million in the States this weekend, which would put it only behind that pesky Harry Potter and the Deathly Hallows Part 2 for the best opening weekend of all time.
Obviously a lot of you are excited about The Avengers, and we are too-- in case you missed it, we've been writing about it constantly here, from Kristy's rundown of the film compared to Joss Whedon's other films to my and Sean's great debate about who gives the best performance to Eric's user's manual to the Marvel universe that newcomers ought to read. Plus Eric has interviews with a ton of the cast and crew, including Loki himself Tom Hiddleston and the man who made all of this possible, Joss Whedon.
And for one more sign of The Avengers success, here's a photo that pal Matt Singer snapped after his own midnight screening at the AMC 25 theater in Times Square. That's a lot of sold-out shows!
Your Daily Blend of Entertainment News
Staff Writer at CinemaBlend
Your Daily Blend of Entertainment News
Thank you for signing up to CinemaBlend. You will receive a verification email shortly.
There was a problem. Please refresh the page and try again.