Awards Blend: American Sniper Is Clint Eastwood's Best Film In Years, But...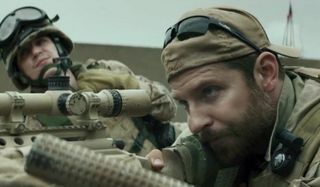 Almost every year, Clint Eastwood attempts to have an Oscar contender ready to drop into the race. Sometimes, those campaigns pan out, as when Million Dollar Baby (2004) and Letters from Iwo Jima (2006) drummed up Academy support. Recently, however, Eastwood films like Hereafter, J. Edgar and Jersey Boys have failed to generate awards heat. Will American Sniper connect with voters, or fizzle out before the race even begins? We discuss the film's prospects in this week's Awards Blend podcast.
Not a lot has changed this week, as few movies that haven't already been seen chose to show their cards. Most of us are still waiting on Angelina Jolie's Unbroken, which held its world premiere in Australia (but is under strict embargo for every print outlet). Movies like Selma and American Sniper did start screening for wider critical audiences, however, and I've shifted the charts accordingly based on what I was able to see.
Personally speaking, I also rewatched Damien Chazelle's brilliant Whiplash this week, and it's every bit as compelling, disturbing, riveting and harrowing as it was the first time I screened it in Toronto. It will need the support of regional and national Critics Groups like the NY and L.A.-based journo cliques to stay in contention. But I'm really hoping it continues to generate raves, because I believe it belongs in many more categories than just Best Supporting Actor, which JK Simmons seems to have secured.
As of Friday, November 21, here's where I think our major contenders stand:
The initial pass of Best Director candidates lacks massive names like Steven Spielberg, Martin Scorsese or the Coen brothers. But it is possible that this category could break major ground if two female directors (in Angelina Jolie and Ava DuVernay) are able to land nominations for their pictures Unbroken and Selma. This week's wild card is Clint Eastwood, who hasn't been nominated in the Best Director category since 2006's Letters from Iwo Jima, but a return to the battlefield for American Sniper could get him into this year's race.
Easily the toughest category in this year's Oscar race. There will be at least five worthy Best Actor candidates who'll be on the outside looking in on the morning of the Oscar announcements. When picking Frontrunners, I have four who I believe are mortal locks. That means there's one possible slot open for nearly 20 possible contenders. Who'll survive the lengthy Opening Stage of the awards campaign?
If the Best Actor is stacked, the Best Actress race is rail thin. A few candidates are emerging late, particularly Julianne Moore in the buzzworthy Still Alice. But I'm hoping Rob Marshall's Into The Woods delivers a few noteworthy female performances, because right now, it's looking like Reese Witherspoon's show.
If I had to place my money on one Best Supporting Actor candidate, it would have to be… too soon to tell. As much as I love JK Simmons in the breathtaking Whiplash, that movie hasn't been setting the indie box office on fire. A few early critics' groups could boost the profile of these candidates, but for now, it's a level playing field.
Much like the Best Picture race, I have one lock (in my mind) for the Supporting Actress race, and it's tied to Boyhood. Patricia Arquette is the emotional anchor of Richard Linklater's sprawling, 12-year journey, and her sentimental work should be enough to earn the actress her first Oscar nomination. Who will join her?
Movie junkie. Infatuated with comic-book films. ReelBlend cohost. Resident dad. Extroverted introvert. Wants to see the Snyder Cut. Managing Director at CinemaBlend.
Your Daily Blend of Entertainment News
Thank you for signing up to CinemaBlend. You will receive a verification email shortly.
There was a problem. Please refresh the page and try again.