The BFG Almost Happened With Robin Williams, Get The Details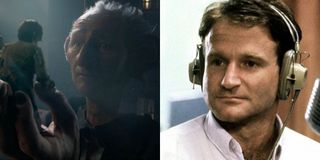 The first trailers for Steven Spielberg's take on The BFG have wonderfully teased and set-up the impending family epic. But while Mark Rylance looks sublime as the titular giant, it's now been revealed that when producers Kathleen Kennedy and Frank Marshall originally looked into bringing Roald Dahl's 1982 children's novel to the big screen in the early 1990s they wanted Robin Williams to take the part. Which is something that we can all admit should definitely have happened.
Kathleen Kennedy, who is now the president of Lucasfilm and has passed her producing work on The BFG to Sam Mercer and Steven Spielberg, as well as her husband Frank Marshall, made this admission to Entertainment Weekly. Not only did she admit that The BFG has had many different scripts during its 20 plus year development, but she confessed that Robin Williams was only unable to take the giant role because the technology wasn't available. As Kennedy explained:
Because The BFG consists of repeated interactions between a 24-foot giant and a small infant girl the technology had to be in place so that this world and characters not only seemed real and vivid, but the CGI and special effects also needed to be subtly integrated so that the human aspects and relatability of the characters were still prominent.
Speaking about why Steven Spielberg felt the need to wait, Frank Marshall explained, "One of the most important things for Steven was to have the actors in the same place so they were relating to each other." Obviously, Steven Spielberg and his motley creative crew feel like technological advancements have reached a point where they can do Roald Dahl's timeless story justice in a live-action, big-screen environment.
But while The BFG looks like it could be the most enchanting and entertaining film of the summer, it's hard not to look back and think what could have been if Robin Williams had taken the role.
Robin Williams, who sadly died in August, 2014, had a uniquely flexible screen presence that meant he could flip from comedy to drama in an instant, while still remaining loveable, heartfelt, and constantly hilarious. And that would have suited itself perfectly to The BFG. Sadly we'll never get to see it.
But the recent Oscar recipient Mark Rylance, who picked up his gong after working alongside Steven Spielberg on Bridge Of Spies, much to the chagrin of Sylvester Stallone fans everywhere, will no doubt do a sterling job in the role. And we don't have long to wait to marvel and fawn over it, as The BFG will finally be released on July 1, 2016.
Your Daily Blend of Entertainment News
Thank you for signing up to CinemaBlend. You will receive a verification email shortly.
There was a problem. Please refresh the page and try again.