Bankrupt VFX Studio Rhythm & Hues Finds Buyer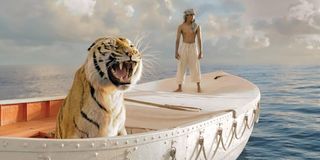 Rhythm & Hues, the visual effects company fresh off both an Oscar win for Life of Pi and a bankruptcy filing, has finally found a buyer to keep them alive. Prana Studios, a VFX and animation studio that is one of Rhythm & Hues competitors, has acquired the company-- well, a holding company "closely associated" with Prana Studios made the acquisition, according to THR, but it seems to be as effective as a merger.
Until now Rhythm & Hues-- a three-time winner of the Best Visual Effects Oscar-- had been operating solely on loans from Universal and 20th Century Fox as they finished up the effects for films from both studios (R.I.P.D. and Percy Jackson Sea of Monsters, respectively). Though the process of outsourcing visual effects work to cheaper studios overseas had been targeted as one of the reasons the California-based industry was faltering, Rhythm & Hues was diversified with several overseas offices, which is one reason their bankruptcy took so many by surprise. The acquisition by the holding company associated with Prana Studios will allow Rhythm & Hues to keep going, but seems to only shine a bigger light on the way American studios are unable to compete in the current global market.
With revealing behind-the-scenes images and even http://www.cinemablend.com/new/Ang-Lee-Criticized-Oscar-Win-Visual-Effects-Artists-Continue-Protests-36019.html>outcry against Life of Pi director Ang Lee, visual effects artists have been striving in recent weeks to make sure moviegoers and the industry understand how much their work matters, and to demand better conditions and pay for the effects work that has become the background of virtually every hit movie. It's a relief to see that Rhythm & Hues will not shutter entirely, but disheartening to see that, more than a month after the Oscars, the visual effects industry is still no closer to the recognition they deserve.
Staff Writer at CinemaBlend
Your Daily Blend of Entertainment News
Thank you for signing up to CinemaBlend. You will receive a verification email shortly.
There was a problem. Please refresh the page and try again.