Will Batman V Superman Surprise Us With A Super Bowl Trailer?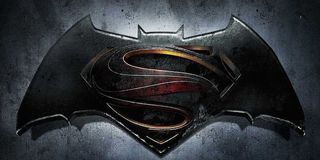 Even though it's still over a year away from release, there's been a lot of talk about if we'll see a trailer for Batman V Superman: Dawn of Justice airing soon. Aside from the images of Batman, Superman and Wonder Woman and the Comic-Con exclusive clip that aired last July, there hasn't been any official footage released for the film yet. There have plenty of rumors in recent months about when Warner Bros plans to give us our first taste of what's coming in 2016, and the latest one suggests that the first preview for the superhero team-up film might air during this Sunday's Super Bowl XLIX.
Comicbook.com has heard rumors that Warner Bros. may air a TV spot during the football championship game between the New England Patriots and Seattle Seahawks. The article mentions that this could be Warner Bros.' way of showing that they are serious competition for Marvel Studios, who may air promos for Avengers: Age of Ultron and Ant-Man. Last year's Super Bowl XLVIII drew over 110 million viewers, so there would certainly be a gigantic audience to see Henry Cavill's Superman and Ben Affleck's Batman for the first time. Releasing a preview over a year before the release date isn't uncommon for DC Comics films. Batman Begins, The Dark Knight, The Dark Knight Rises and Man of Steel all aired their first trailers approximately 12 months before they were released in theaters.
It was rumored earlier this month that the trailer would be attached to February's Jupiter Ascending, which would make sense given that it's also a Warner Bros. release. A short preview during the Super Bowl could serve as a tease for a (slightly) longer trailer that's coming either next month or in the coming months. However, the main problem with airing a TV spot for Batman V Superman: Dawn of Justice during the Super Bowl is expense.
It costs millions of dollars to air a commercial during the game, with most movie TV spots lasting only 30 seconds. For a movie that's not coming out until next March, it seems odd that Warner Bros. would shell out that kind of money for only half a minute of screen time. Even if there is no Batman V Superman: Dawn of Justice promo attached, there will be plenty of TV spots for other highly-anticipated movies, so film fans will still get their fix.
Batman V Superman: Dawn of Justice will be released in theaters on March 25, 2016.
Connoisseur of Marvel, DC, Star Wars, John Wick, MonsterVerse and Doctor Who lore. He's aware he looks like Harry Potter and Clark Kent.
Your Daily Blend of Entertainment News
Thank you for signing up to CinemaBlend. You will receive a verification email shortly.
There was a problem. Please refresh the page and try again.