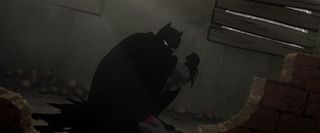 Before Christopher Nolan gave us The Dark Knight the best version of Batman wasn't any of the multi-billion dollar movies Hollywood had given us, it was a Saturday morning cartoon series.
Batman: The Animated Series ran from 1992 to 1995 and in the process delivered some of the best animated television ever seen on the small screen. It even spawned an equally amazing animated film, Batman: Mask of the Phantasm which got a brief theatrical release. Batman works brilliantly in animated form and now DC is taking the character back there, with a new animated movie called Batman: Year One.
Check out the first trailer for Year One below.
Like the 90s cartoon series was, this animated take on Batman is inspired by Frank Miller's acclaimed Batman comics. Unfortunately it doesn't look like they've gotten anyone from the 90s series involved in the production though, most critically the Joker won't appear which means none of Mark Hamill's brilliant voice work as the character. It also seems to be covering kind of worn out ground. How many more times do we need to see that mugger shoot Bruce Wayne's parents?
That's not to say this doesn't look good. It has that same, amazing, Batman: The Animated Series feel. This seems worth putting on your television when it showed up on Blu-ray, DVD, and OnDemand October 18th. Or if you're one of the lucky few at the San Diego Comic Con this year, Batman: Year One will play there in its entirety on Friday July 22, at 8PM in Ballroom 20.
Your Daily Blend of Entertainment News
Your Daily Blend of Entertainment News
Thank you for signing up to CinemaBlend. You will receive a verification email shortly.
There was a problem. Please refresh the page and try again.