The Batman v Superman Porn Parody Trailer Is Here, And Kind Of Good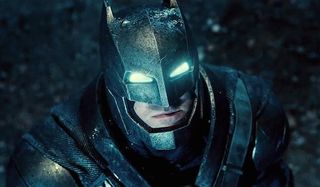 Whenever a big blockbuster movie is on its way there are two things you be sure will be along in short order. A direct to Netflix low budget knock-off (referred to as "mockbuster") and a porn parody. The thing is that since both the knock off and the porn are cheap and fast to make, they usually hit before the thing they're trying to copy. Such is the case with the Batman v. Superman porn parody, which is now available if you just can't wait for the real thing. This is not the porn parody you need, but it's probably the one you deserve.
iO9 has the safe for work preview of the imaginatively titled Batman v. Superman XXX. You really need to watch it. No! Not for that reason. The scene includes your standard "Batman vs. a room of Joker thugs" fight that you'd expect to see. What you don't expect is...it's not terrible. It's cheap to be sure, but it's not that cheap. It looks like a fan film that did the best they could on the budget they had, as opposed to just not trying at all because...well...because it's porn so who cares? It's sort of remarkable. You wouldn't think they'd spend any money on costumes or sets but there you go.
The fight scene is a little stiff (sorry, had to do that) but it certainly doesn't look any worse than anything out of the 1960's TV show. Honestly it looks a lot better than that. Batman, who is apparently played by Giovanni Francesco (we're guessing not a real name), also has a pretty mean spinning back kick. We know because he does it a lot. A lot. It's pretty much the only move he has beyond punch and kick.
The (ahem) film is produced and directed by Axel Braun whose previous parodies have covered The Avengers, The Terminator, and Saved By The Bell among many others. We assume all of them are just as classy as this one appears to be. As with the upcoming original the parody will also star Wonder Woman, although it will also include The Joker and Harley Quinn, who as far as we know will not be in the Warner Brothers production. Also, their version of the Joker is obviously based on the Heath Ledger version from The Dark Knight, and takes no cues from what we've seen of the upcoming Jared Leto Suicide Squad version. Truly a missed opportunity in our opinion. Although if they did that then there'd be nothing to save for Suicide Squad XXX and that would be the real crime.
Yes, the tagline is "Justice is Coming" because of course it is.
Your Daily Blend of Entertainment News
Content Producer/Theme Park Beat
CinemaBlend's resident theme park junkie and amateur Disney historian. Armchair Imagineer. Epcot Stan. Future Club 33 Member.