How Old Wonder Woman Will Be In Batman V Superman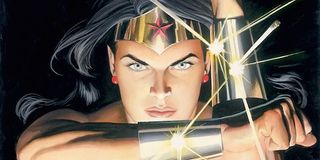 The titular heroes in Batman V Superman: Dawn of Justice are on opposite ends of the experience spectrum. On one end, you have Superman, who has only just embraced his role as protector of Earth. Then you have Batman, who has been fighting crime in Gotham City for at least a decade, if not longer. Well, the film's tertiary hero is going to have the Dark Knight beat… by a lot. A new rumor suggests that Gal Gadot's Wonder Woman will have been walking this Earth for centuries by the time she meets the other members of the DC Trinity.
According to Umberto Gonzalez from Heroic Hollywood, the Amazonian princess will very old in Batman V Superman: Dawn of Justice. This will be backed up in the movie with photographs of her that date back hundreds of years, according to the rumor. So when Bruce Wayne and Clark Kent's (human) ancestors were still riding around in wagons and using quills for pens, Diana of Themyscira was walking around looking exactly the same. It's unclear whether it's always been planned for her to be this old, or if this came about during one of the script rewrites.
From a superpowers standpoint, Wonder Woman's advanced age makes sense given her mythological background, but in the comics her age has varied due to DC's continuity always changing. In some stories she is hundreds of years old, and this was the same case for Lynda Carter's Wonder Woman in the 1970s TV series. However, in the New 52, Wonder Woman is only 23, though the end result might be the same as her movie counterpart centuries from now, i.e. still looking incredibly young despite hundreds of years having passed. Considering that the film is using her New 52 origin by having her be the daughter of Hippolyta and Zeus (rather than Hippolyta constructing her out of clay), it's surprising that they wouldn't keep her close to Gal Gadot's real age for the movie.
Last year, it was reported that 2017's Wonder Woman would be set in the 1920s. This was never confirmed, although it's entirely possible this could have been one of the five scripts Warner Bros commissioned for her solo film. Still, if she truly is this old, then it's at least plausible that she could have been getting into antics during the Roarin' Twenties. Evidently she hasn't been keeping too low of a profile if several pictures of her were snapped over the decades.
If this age report ever gets verified, this means that Wonder Woman will be quite similar to the MCU's Thor, who has been around thousands of years. Wonder Woman will be a demigod in the DCCU, though it remains to be seen whether Zeus and the other Greek gods will truly be mythical beings. Either way, Diana has good genes if she still looks this good after several centuries.
Connoisseur of Marvel, DC, Star Wars, John Wick, MonsterVerse and Doctor Who lore. He's aware he looks like Harry Potter and Clark Kent.
Your Daily Blend of Entertainment News
Thank you for signing up to CinemaBlend. You will receive a verification email shortly.
There was a problem. Please refresh the page and try again.