Early Buzz About Jared Leto's Joker Performance Is Over The Top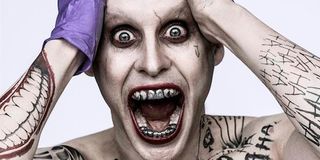 There's been no shortage of discussion about Jared Leto's rendition of The Joker in the upcoming supervillain team-up movie, Suicide Squad. The unveiling last month of the character's first official image yielded a divisive reception amongst the fanbase. It's been clear for some time that Leto wants to bring an original take to the character. In fact, a new report indicates that Leto is actually upping the insanity in a way that could make this the best Joker ever.
According to a rumor report from scooper Umberto Gonzalez, Jared Leto is exercising massive levels of commitment to his Joker role, supposedly staying in character even when the cameras aren't rolling. Gonzalez uses the words "going all out" to describe what his sources have been saying about this performance, and adds:
That, to say the least, is a bold claim and a glove-slap in the face of certain elements of fandom who consider Ledger's performance definitive. Regardless of the potential of Leto's version, there is also risk to making radical changes. People like what they like, and it takes a very strong performance to jar people out of their comfort zone. Fortunately, Leto seems very willing to just go for it with his new take. In fact, by the time we meet the character, he has already experienced some significant encounters wtih Batman. Thus, it could be argued that this stylistic direction is the culmination of an unseen evolution of the character.
Leto's version has been described in the past by inside sources as "more cerebral and comedic" than the previous incarnations. One might presume that the actor could look to amalgamate some key elements from Jokers past to create his own unique take. Yet, based on what superficial assumptions we can derive from his more esoteric aesthetics and muscular look, we might be looking at a foray into even bolder territory. From a stylistic standpoint, this is clearly a "hipper" Joker than we've seen before, and it's possible that being one half of a demented coupling with Margot Robbie's Harley Quinn has shaped him into less of a lone wolf type.
At the moment, we don't know for sure what motivates him, but it seems that his signature dementia could be balanced with a greater agenda relating to his wild relationship with Harley, who finds herself indentured to the service of Amanda Waller (Viola Davis) and her team of captured miscreants. The description of Joker "going all out" could very well be motivated in magnitude by his status as a hopeless romantic…who kills people for fun. Suicide Squad showcases, amongst other things, mad love when it hits theaters on August 5, 2016.
Your Daily Blend of Entertainment News
Your Daily Blend of Entertainment News
Thank you for signing up to CinemaBlend. You will receive a verification email shortly.
There was a problem. Please refresh the page and try again.