Battleship Performs Even Worse Than Expected, Makes $9 Million On Friday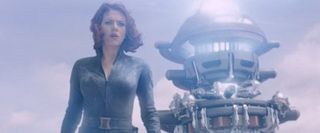 We knew going into this weekend that The Avengers would have no trouble destroying Battleship at the box office, even though it's in its third weekend of release and Battleship-- not to mention The Dictator and What To Expect When You're Expecting-- are the new, fresher kids on the block. But with Friday numbers in, it's clear that The Avengers is really the only thing anybody wants to see right now. According to estimates at Deadline it made $15 million Friday, putting it on pace for $54 million for the weekend-- a hearty $4 million more than predicted. Battleship, meanwhile, made $9 million, now on pace for a $25 million weekend which-- ouch-- is even less than domestic opening for Taylor Kitsch's last big film, the famous flop John Carter.
The Avengers has already become Disney's highest grossing film of all time-- yes, more than all of the Pirates of the Caribbean movies-- and its domestic total after this weekend will be something like $454 million, which will make it the #10 film of all time domestically. With that kind of news, it almost doesn't seem worth going over The Dictator and What To Expect When You're Expecting, which made a respective $5.7 million and $3.8 million on Friday. That puts The Dictator right at its estimated $20 million opening, but What To Expect well below it-- it's projected to make $11 million, which is low even for summer rom-com counterprogramming fare (Made of Honor, which opened opposite Iron Man and absolutely no one remembers, made $14 million).
We'll have final box office results for you at the end of the weekend, but suffice it to say it's not good to be anyone but The Avengers right now. Let us know in the comments what you're seeing, and if Battleship really deserved to be quite this big a flop.
Staff Writer at CinemaBlend
Your Daily Blend of Entertainment News
Thank you for signing up to CinemaBlend. You will receive a verification email shortly.
There was a problem. Please refresh the page and try again.