Baz Luhrmann In Negotiations To Adapt 70's TV Show Kung Fu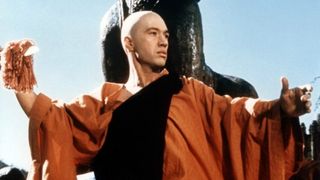 It's important to keep your audience on their toes. And while there are few filmmakers who make films as unmistakable as Baz Luhrmann, you can't say he's made the same movie twice. He's coming off his biggest success with The Great Gatsby, which grossed $351 million worldwide, and now he's going to... direct a big screen adaptation of the show Kung Fu. Yeah, you didn't see THAT coming.
THR reports that Luhrmann is in negotiations to re-write and direct the project, currently set up at Legendary Pictures. Kung Fu, for the younger kids in the audience, ran on ABC from '72-'75, and it featured David Carradine as a Shaolin monk who came to the states searching for his long-lost brother, walking from town to town solving problems. The new version features Caine traveling to China searching for his father, with Caine ending up in a prison where he must fight his way out. So Caine is American now, but the location is China. Hm. This allows them to secure funding with an accomplished American actor, while also pleasing Chinese financiers with the location shoot.
This is just the latest of many American gestures to China within the film industry. China's film scene is expanding massively, and by 2020 it's on pace to become the largest cinematic market, surpassing America. Most studios seem to be ahead of the game there: Marvel's Iron Man 3 had a totally different Chinese subplot in an international cut of the film, one that proved controversial to some. And you're going to see a lot of major Chinese productions with Hollywood ties, like Justin Lin's $100 million remake of The Shaolin Temple.
Legendary, who couldn't get The Dark Knight into China because of its controversial Chinese subplot, is attempting to make tremendous inroads to adjust this inequity. They are also moving ahead with luring Zhang Yimou to Hollywood to make The Great Wall. Though it originally seemed like a major historical film, with Ed Zwick directing Henry Cavill and Benjamin Walker (Abrahama Lincoln: Vampire Hunter) in a story about erecting the monument, it was soon revealed that the production would also feature spooky supernatural elements. Kung Fu and The Great Wall could be big here, but huge overseas, where it's now becoming okay to have a quiet stateside release but explode internationally: Need For Speed and Pacific Rim were two recent releases to be only somewhat successful in America, but singularly huge in China. Stay tuned: this is our new movie industry.
Below, enjoy a small sampling of the original Kung Fu
Your Daily Blend of Entertainment News