Justin Lin Goes Far East For A $100 Million Remake Of The Shaolin Temple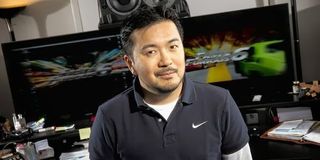 Justin Lin is in the blank-check phase of his career. What he did with the Fast And Furious franchise was borderline miraculous: Tokyo Drift was once considered a potential direct-to-DVD vehicle, not the start of a transition that would turn that series from a B+ franchise into a bonafide sensation. Soon he'd earn the clout to receive some of the industry's greatest opportunities. And by the time Furious 6 rolled around, he earned the clout to turn them down, departing from lucrative gigs for reboots of both the Terminator and Highlander series.
His next picture is next summer's untitled Bourne Identity sequel, though his next gig after that could be his most ambitious undertaking yet. Deadline is reporting that Lin is locked-in to direct a remake of The Shaolin Temple. The original, from 1982, details the revenge sought by the son of a slave worker seeking revenge against a corrupt general. It was the screen debut of Jet Li, who ironically hasn't really aged much in the thirty plus years since! Youthful face, that dude. There's no word on when this would film: Lin is tentatively scheduled to shoot the Bourne film later this year, but there's been no casting or even a synopsis revealed, so it wouldn't be a huge surprise if that was postponed and Lin entered the Temple instead.
Predictably, this is being planned in 3D. Unpredictably, it's being shot in Mandarin, and with a $100 million pricetag. Projections have China expanding so aggressively that, within the next five years, they could become the biggest film market in the world, not America. That's the gamble being taken by Perfect Storm Entertainment, Lin's shingle. Lin's partner Troy Craig Poon promises they'll be hiring an "A+ Hollywood writer" for the film, and that they have Blockbuster aspirations. That's super-ambitious, though Poon claims they won't rush the project, stating that, "We will commence only when we feel this is ready." In other words, there might be a little bit more capital to dig up for a $100 million Mandarin blockbuster.
The Shaolin Temple could be the biggest indicator that the relationship between Hollywood and mainland China has grown by leaps and bounds in recent years. American distributors only receive 25% of grosses from China as new theaters are built all over the region, resulting in massive grosses despite an influx of only twenty-to-twenty five government-approved (and often government-censored) films. Chances are, a global blockbuster version will be completely different from the Jackie Chan and Andy Lau remake from 2011, seen below.
Your Daily Blend of Entertainment News