Baz Luhrmann Turned Down Directing Harry Potter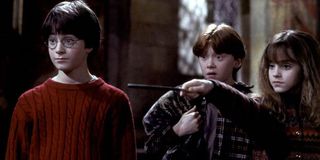 Australian auteur Baz Luhrmann is rehashing his career choices as he does world press for his latest splashy spectacle The Great Gatsby. And while appearing on The Graham Norton Show he talked about the films he has done as well as one he shockingly turned down. And according to Digital Spy, the director revealed that after helming his flashy Romeo + Juliet, Warner Bros. actually approached him to helm Harry Potter and The Sorcerer's Stone. But unaware of the books and their fast-brewing fanbase, he turned it down:
While the Harry Potter franchise is an unmitigated success, pulling in more than $7 billion at the box office over eight films, many fans admit the first two in the series—both directed by Chris Columbus—don't hold up as well as their follow-ups. Maybe it's the roughness of the child actors' performances, or the emphasis on keeping things aggressively family friendly and stringently loyal to the books, or perhaps it was because Columbus isn't as known for creating a strong visual wow factor like the franchise's later helmers Alfonso Cuarón, Mike Newell, and David Yates.
This makes Luhrmann's possible involvement with the franchise seem a missed opportunity. Sure, his latest adaptation didn't work for me personally, but it's hard to argue that he wouldn't have added a ton of style to Harry Potter's magical world…and probably some pop songs and loads of glitter too. In all likelihood, Luhrmann being at the helm would have meant a major shakeup for how the book's characters were created for the screen. Plus, Luhrmann would have likely pushed for broader, more theatrical performances from his cast. While the Columbus' Potter movies leave something to be desired, would Luhrmann and his penchant for razzle dazzle have been a better fit?
This poll is no longer available.
Your Daily Blend of Entertainment News
Staff writer at CinemaBlend.