Ben Affleck Makes His Batman Sound Like A Psychopath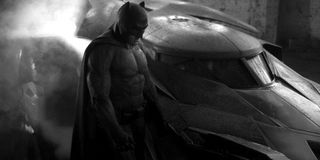 All the naysayers who hated Ben Affleck's Batman casting seemed to forget that the Academy Award winner is actually very, very intelligent. And just hearing him speak about Batman reminds you of that. Especially as he has just made him sound like a complete psychopath.
During Entertainment Weekly's set visit to the hugely anticipated superhero hybrid, the publication was able to sit down with Batman v Superman: Dawn Of Justice's cavalcade of talent, and during their chat with Ben Affleck, the actor opened up about what makes his Batman unique to previous incarnations. And in the process, he's made him sound terrifying:
Of course, what provoked Batman's worries was the emergence of Superman in Man Of Steel. And Batman's main issue is that Superman's limitless power over the human race could turn him into a dictator rather than a hero. That's why the Dark Knight takes it upon himself to try and rid the world of Krypton's most famous son.
It's great to hear Ben Affleck speaking about the previous versions of the character and how they will infuse itself into his interpretation. Hopefully this means that very little time will be spent catching people up with Batman's torrid past, and we can then swing immediately into action.
It's also clear that this is going to be a very different Batman to the ones that we've seen on screen before. From everything that's been coming out about BvS' version of the icon Bruce Wayne confirms that he has become downtrodden because of his past escapades, and, even though his heart is in the right place, it's going to be harder than ever to get behind him.
Especially as he will be going toe-to-toe with another beloved comic-book icon in the shape of Superman. That's why it's imperative that Warner Bros. and DC got an actor to play Batman who is able to project a darkness and threat that you're immediately able to sense, while at the same time emanating a relatability that you can't help but be enveloped by. In Ben Affleck, I fully believe that they've got that man.
And with Henry Cavill, Jesse Eisenberg, Holly Hunter, Gal Gadot, Jeremy Irons, and Jason Momoa there to help out, and a script from Oscar-winning writer Chris Terrio to boot, Batman V Superman: Dawn Of Justice has the potential to be one of the most complex and riveting superhero movies ever created. That's just as long as Zack Snyder makes sure that it's not overly convoluted and keeps it well-balanced. We'll see if that's the case when it finally hits screen on March 25, 2016.
Your Daily Blend of Entertainment News