See Batman And Superman Square Off In First Look At Batman V Superman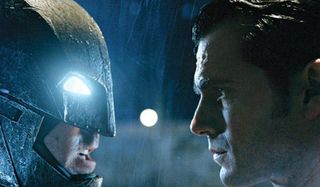 It's now a week before Warner Bros. will be giving fans a special look at the highly anticipated DC Comics event, Batman v Superman, but a whole slew of new looks has debuted ahead of schedule. Entertainment Weekly unleashed the cover of its Comic-Con preview issue and the holy DC trinity -- Superman, Batman and Wonder Woman -- are featured on the cover, with a batch of enticing movie stills within the pages. The most riveting, though, is a the big face-off image between the Dark Knight and Man of Steel. Check it out below.
Henry Cavill reprises his Superman role, while Ben Affleck portrays Batman. Based on the first teaser trailer, we know that public opinion of Kal-El has shifted after he saved the world from General Zod's World Engine. Some see him as a savior while a great deal more view him as an invader hellbent on domination. On the sidelines is Bruce Wayne, billionaire by day, vigilante by night, who takes the latter opinion. I mean, he must, given how sinister he looks gazing into the eyes of his enemy and future friend. And how will Batman be a match for someone like Superman? EW confirms that the superhero will be sporting a reinforced, strength-augmented mech-suit with kryptonite.
Elsewhere in the magazine, Affleck revealed more about where Batman is in life in the film.
Gal Gadot, playing our first live-action, big-screen iteration of Wonder Woman, joins these two on the front cover of this issue. It was unclear at first how we would meet the heroine in Batman v Superman, but the magazine reports that she will be introduced as Diana Prince. She first encounters Wayne at a high-society function, though the two know each other's secret identities. Check out the cover image below.
There are even more looks to be had -- five more movie stills, specifically -- which you can check out here. Director Zack Snyder and Jesse Eisenberg, who plays the villain Lex Luthor, are also featured among this preview. Elsewhere, the cast is bolstered by return appearances from Amy Adams (Lois Lane), Laurence Fishburne (Perry White) and Diane Lane (Mrs. Kent), while franchise newcomers Holly Hunter, Scoot McNairy, Tao Okamoto and Callan Mulvey join the ranks. The film, with its subtitle Dawn of Justice, will also pave the way for the upcoming Justice League team-up, which means Jason Momoa as Aquaman. Ezra Miller's The Flash and Ray Fisher's Cyborg are also expected to appear in some capacity in the film.
Next week during Comic-Con, Warner Bros. will bring out Snyder, Affleck, Cavill, Gadot, Eisenberg, Hunter, Adams and Irons for a special sneak peek of the film, plus a few more DC Comics surprises. The film itself will hit theaters on March 25, 2016.
Your Daily Blend of Entertainment News
Thank you for signing up to CinemaBlend. You will receive a verification email shortly.
There was a problem. Please refresh the page and try again.