Watch Ben Affleck Say I'm Batman For The First Time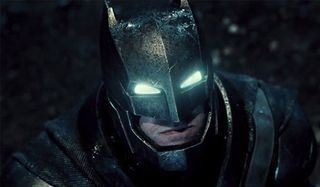 The debut of Ben Affleck's dark foray donning the famous cape and cowl in Batman v Superman: Dawn of Justice is still the better part of nine months away. Despite getting a glimpse of his performance in the recent trailer, details on Affleck's interpretation are still scarce. However, in a recent Instagram post, the actor drops a line considered no less than a rite of passage in the annals of Bat-dom.
The footage appears on the Instagram account of child actor, Seth Lee, who, along with Anna Kendrick, Jon Bernthal (Marvel's new Punisher) and J.K. Simmons, will join a headlining Ben Affleck in the upcoming drama, The Accountant. Interestingly, that film features a similar thematic focus on double lives with Affleck's seemingly mild-mannered number-cruncher moonlighting as an assassin. However, young Lee couldn't help but name-drop Affleck's other upcoming nom de guerre, and Affleck was nice enough to also participate, giving us our first taste of his version of Batman dropping the famous introduction, "I'm Batman."
While seemingly just two basic words that carry only a perfunctory purpose for a fictional character, "I'm Batman" has been a tradition for on-screen depictions of the Caped Crusader, ever since Michael Keaton first delivered the devastating demonstration to a hapless thug in Tim Burton's 1989 Batman in a mysteriously shady resonance. Having been replicated in some manner by every rendition of the character, both on the small and big screens, it's become the critical codification of the character for each actor who's portrayed him.
However, we may not want to assume that this is a preview of what we'll hear in the movie. Anxious fans are hoping to grab onto any new tidbit of insight into this bold new Batman who, armed with the fanciest equipment we've seen yet, looks to make a quarry of Henry Cavill's Superman. While the recent trailer for Dawn of Justice may not have given us much insight into the new Batman's character other than his intent, it did manage to yield one key, gravelly-voiced line aimed at Superman, "Tell me, do you bleed? You will." Thus, with that clearly different tone being the baseline established for Affleck's Batman voice, this impromptu performance seems to something made in simple jest.
Of course, when it comes to the storyline for Dawn of Justice, "jest" is hardly a word that comes to mind in the moody, bleak atmosphere to which we have been exposed. Serving as a follow-up of sorts to 2013's Man of Steel, we see a world shaped by the awe-inspiring power of Superman, with humanity seemingly divided into factions with some worshipping him as a god and others resenting his accountability-absent actions. Batman seems to politically reside in the latter group and he's putting all his deadly rich-guy resources into bringing this perceived Kryptonian hubris back down to Earth in devastating fashion.
Batman v Superman: Dawn of Justice will look to live up to what should be the ultimate cinematic showdown of two of the biggest names in the history of not only comic books, but fiction, as whole. The DC crossover devastation hits theaters on March 25, 2016.
Watch Christian Bale say "I'm Batman" on Page 2...
Your Daily Blend of Entertainment News
Thank you for signing up to CinemaBlend. You will receive a verification email shortly.
There was a problem. Please refresh the page and try again.