The Next Solo Batman Movie May Be Directed By Ben Affleck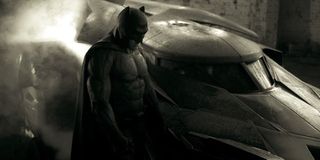 Warner Bros. has big plans for its DC cinematic universe, and it better, if it's ever going to keep up with Marvel. In addition to Batman v Superman, there's also a two-part Justice League event and solo films for Wonder Woman, Aquaman, The Flash, Cyborg and Green Lantern in the works. But what about those solo Batman and Superman movies we keep hearing about? Some new information has come to light on the former of these two projects, and if true, then Ben Affleck is coming aboard to direct himself in the next Dark Knight movie.
Affleck is already our new Batman and will make his debut in Batman v Superman alongside Henry Cavill and Gal Gadot. However, the word from Latino Review — buried at the very bottom of a recent column — is that he will also helm the solo Batman movie. Previous reports pegged this film for a 2019 release, but this new information says the plan is to release it in 2018. Elsewhere, Chris Terrio, the guy writing the screenplay for both Justice League films, is said to pen the solo Batman film, called The Batman. Though, Warner Bros. has yet to formally address the matter.
Ben Affleck has come light years ahead of his days in Daredevil and Gigli. He's now an Oscar-winning director, who led the cast and crew of Argo to snagging three awards from the Academy, including Best Picture. It's also worth noting that way back when, before we knew the plan for DC and WB's superheroes, Affleck was rumored to helm the Justice League movie at one point. That was quickly debunked, but perhaps it wasn't all smoke and mirrors. The studio has an Oscar caliber director in their camp, and we're sure it's at least crossed their minds to utilize his talents in this regard.
In the meantime, Affleck still has to worry about Batman v Superman. In the film, Bruce Wayne, bolstered by the peoples' collective distrust of the Man of Steel, seeks a standoff with the alleged alien savior of the world. We saw his character in the trailer sporting a high-tech Batman suit, not unlike the suit Batman wore in the Frank Millar comic The Dark Knight Returns, which serves as inspiration for the film. Jesse Eisenberg's Lex Luthor will no doubt have a big part to play in stoking the anti-Superman fire.
Following Batman v Superman, Affleck will reprise his role for Suicide Squad, which sees some of the DC world's worst villains teaming up for an Amanda Waller-backed task force. We've already seen leaked video and photos from the set showing Batman chasing down Harley Quinn (Margot Robbie) and The Joker (Jared Leto) in the Batmobile before leaping atop their speeding car.
Your Daily Blend of Entertainment News