Ben Affleck Responds To Justice League Rumors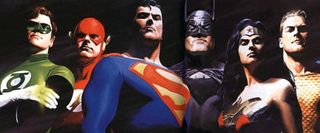 With the record-shattering success and universal praise that the superhero ensemble adventure The Avengers scored, the long wished for Justice League movie finally seemed a possibility. But who would Warner Bros choose to taken on such a Herculean task? Would they continue in the vein started by Christopher Nolan in his Dark Knight trilogy, selecting a director best-known for tense thrillers? Or would they attempt to mimic Marvel and choose a helmer known for his fanboy affections?
With the rumored choice of Ben Affleck, it seemed the former. The actor turned heralded director of Gone Baby Gone and The Town was a possibility that stirred debate, but word soon followed from a rival trade that declared Affleck had already passed on the project. Now, THR has unearthed an interview with the Canadian Press that on its surface seems to declare Affleck will not helm The Justice League. He tells 24 Hours:
It seems pretty open and shut until one considers that what he didn't say. He didn't speak to rumors that he'd been sent the script. He didn't claim he's not in talks or being considered to helm. And the present tense here allows him to be truthful, but vague. He may not now be working on a Justice League movie, but could still plan to. Essentially, if Affleck actually wants to squash the rumors he might helm one of the most anticipated superhero movies of all time, he needs to be a bit more explicit. Tell us flat out you will not be directing the film and are no way attached to it, or rumors of the possibility will continued to be weighed for better or worse.
Staff writer at CinemaBlend.