Upcoming Ben Affleck Movies: A List Of Future Projects From The Batman Actor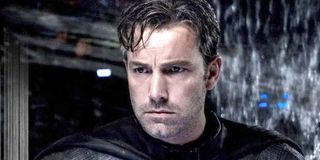 With appearances in two of the most highly anticipated DC movies, including the arrival of Zack Snyder's Justice League, as well as projects that will see him team up with his longtime best friend and creative partner, Matt Damon, we are going to be seeing a lot of Ben Affleck in the next couple of years, and hopefully for decades to come. All of the upcoming Ben Affleck movies each sound like they will give audiences something different, with everything from big-budget superhero spectacles to heartfelt dramas, and even a psychological thriller thrown in.
Below we will break down where we will see Ben Affleck (on both sides of the camera) as well as when we can expect to see all of those projects. And don't worry, Zack Snyder's Justice League is just the beginning…
Zack Snyder's Justice League (Starring, Producing) - March 18, 2021
At long last, in May 2020, it was announced that the long-rumored Snyder Cut would finally see the light of day, or at least Zack Snyder's Justice League would land on HBO Max in 2021. With a runtime of four hours, Snyder's definitive cut of the 2017 crossover event film will further flesh out the individual stories of the key members of the Justice League, explore the mythos of DC Extended Universe and even showcase the live-action debut of Darkseid, after the tyrannical god was left on the cutting room floor of the original cut.
After months (years, actually) of anticipation, Warner Bros. announced in January 2021 that Zack Snyder's Justice League would premiere Thursday, March 18 on HBO Max. Ahead of its release, CinemaBlend called the movie a definitive experience.
The Last Duel (Starring, Writing) - October 15, 2021 (Post-Production)
Ridley Scott's The Last Duel was once believed to be one of six movies distributed by Disney in the final months of 2020, but as we all know now, those plans didn't pan out. The movie, which will see Ben Affleck and Matt Damon sharing writing credits for the first time in more than 20 years, centers around a knight, Jean de Carrouges (Damon) and his squire, Jacques Le Gris (Adam Driver), who are ordered by King Charles VI (Affleck) to fight to the death after the knight accuses his squire and best friend of raping his wife.
Production on the film halted in March 2020 but was able to pick up as safety precautions were put in place on film shoots around the world. Principal photography finally wrapped later in the year and The Last Duel is now slated to hit theaters October 15, 2021.
Deep Water (Starring) - January 14, 2022 (Post-Production)
Ben Affleck will appear alongside his former partner Ana de Armas in the upcoming psychological thriller Deep Water. Based on the Patricia Highsmith novel of the same name, the Adrian Lyne-directed thriller centers around Vic and Melinda Van Allen, a couple who comes up with a rather unique way of saving themselves from the messiness of a potential divorce. The film was slated to hit theaters ahead of the 2020 Thanksgiving holiday but due to setbacks caused by COVID-19 and reshoots, Deep Water is now expected to be released January 14, 2022.
The Tender Bar (Starring) - TBD (In Production)
Despite being two of the biggest names in Hollywood, Ben Affleck and George Clooney haven't worked together all that much over the years, with their biggest project being Argo, in which Clooney served as a co-producer to the Affleck-directed Oscar winner. That recently changed with the announcement of The Tender Bar, which will be released by Amazon Studios at some point in the near future with Affleck starring and Clooney directing.
Based on J.R. Moehringer's memoir of the same name, The Tender Bar follows Tye Sheridan's version of the author who turns to his Uncle Charlie (Affleck) as a father figure with his own dad nowhere to be seen. Although his mother (Lily Rabe) and grandfather (Christopher Lloyd) are very much in the picture, J.R. takes to Charlie and the patrons of the dive where he tends bar.
A project that has long been in the works (going back as far as 2013), The Tender Bar finally entered production in February 2021 in Boston and is expected to last through April. No release date has been announced at this time but expect the coming-of-age drama to land on Amazon at some point in late 2021 or early 2022.
The Flash (Starring) - November 4, 2022 (Pre-Production)
There was a time when it seemed like we would never see Ben Affleck return to the DCEU after dropping out as the star and director of The Batman, but as we learned with Zack Snyder's Justice League, never say never. When Andrés Muschietti's The Flash lands in theaters in November 2022, it will see Ezra Miller's Barry Allen crossing paths with different versions of Batman from parallel dimensions with the return of not only Affleck's Batman but also Michael Keaton coming back after not portraying Bruce Wayne since 1992's Batman Returns.
The Flash will reportedly start filming at Warner Bros. Leavesden Studios in April 2021, though the duration of the shoot largely remains a mystery. Despite that, the film is slated to land in theaters on November 4, 2022 after jumping between dates the last couple of years. Expect to hear much more about this highly-anticipated project in the months to come.
Ghost Army (Starring, Directing, Writing) - TBD (Announced)
Now we find ourselves in the murky waters of projects Ben Affleck has been attached to for some time, but still don't have a release date (or production start date for that matter). Ghost Army, which is based on the World War II story about a United States Army unit that used inflatable tanks and other mocked-up military equipment to deceive Nazi forces. The film is based in part on the 2013 documentary Ghost Army and the book The Ghost Army of World War II: How One Top-Secret Unit Deceived The Enemy With Inflatable Tanks, Sound Effects, And Other Audacious Fakery. A project like this is in Affleck's wheelhouse, especially after he took home an Academy Award for Argo in 2013. There still isn't any information on when we can expect to see the film, but Affleck is slated to star, write and direct the project.
Falling To Earth (Starring) - TBD (Announced)
Another project that has had Ben Affleck's name attached to it for some time is the historic tornado film by the name of Falling To Earth. Based on Kate Southwood's 2013 novel of the same name, the film is set in a small Illinois town in 1925 that is ravaged by the worst tornado on record. According to The Hollywood Reporter, Affleck is attached to star as one of the survivors of a family left relatively untouched by the storm who tries to rebuild the devastated community in the months following the disaster. There's no word on a potential release date at this time.
Hypnotic (Starring) - TBD (Announced)
Ben Affleck is also slated to be part of Robert Rodriguez's upcoming action thriller Hypnotic, where, according to Variety, he will play a detective who becomes involved in a mystery surrounding the disappearance of his daughter and her ties to a secret government program. In late 2019, production was pushed back to April 2020 to accommodate Affleck's schedule, but TMZ reported in March 2020 that production had been halted in light of the pandemic that paused countless film productions in the early part of the year. There haven't been any additional updates on the status of the project in the months following the announced hiatus.
I Am Still Alive (Starring, Producing) - TBD (Announced)
Ben Affleck is looking to enter the genre of survival thrillers with the film adaptation of Kate Alice Marshall's novel I Am Still Alive. According to Deadline, Affleck is attached to star and produce the film, where he will play the off-the-grid father who is tasked with taking care of his teenage daughter in the Canadian wilderness after a car crash kills her mother and leaves her injured. Described as a mixture of Wild and The Revenant, I Am Still Alive looks to focus on the undying spirt of a rebellious teenager and her closed-off father as they brave the elements in the far north. There has been no word on a release date or even when the film will enter production, but hopefully we hear something sooner rather than later, because this could be a fun and exhilarating theater experience.
King Leopold's Ghost (Writing, Directing) - TBD (Announced
According to Deadline, Ben Affleck has already been hard at work on the historical war drama King Leopold's Ghost for some time. Based off the book King Leopold's Ghost: A Story of Green, Terror, and Heroism in Colonial Africa by Adam Hochschild, the film will center on the horrible crusade by Belgium's King Leopold II through the Congo in the late 19th century. For those not familiar with King Leopold II or his campaign through the African jungle, the ruthless king and military leader was reportedly responsible for the deaths of approximately 8 million people in the region. How Affleck handles this story remains to be seen, but I'm sure he's handling it delicately with all of the time he has committed to the project. Make sure to check back for an update on what should be a remarkable historical drama.
Untitled McDonald's Monopoly Movie (Producing) - TBD (Announced)
It seems like it's been years since everyone was talking about the HBO docuseries McMillions, which chronicled the hard-to-believe story of the McDonald's Monopoly Scam, but that was only a few months ago. And even though the buzz has died down a bit in light of everything that has happened in the world since then, we can expect to hear about the topic a great deal in the near future when Ben Affleck and Matt Damon's film covering the same topic hits theaters. In a February 2020 interview with Collider, Affleck revealed that although he was busy with other projects at the time, he was still devoted to this project, which had recently received a new script treatment. All I want to know is if FBI agent Doug Matthews is going to portray himself in the film adaptation.
By the looks of it, we will be seeing a lot of Ben Affleck in the months and years to come. To see what else is coming to theaters this year, check out CinemaBlend's updated list of all the 2021 movie premiere dates.
Philip grew up in Louisiana (not New Orleans) before moving to St. Louis after graduating from Louisiana State University-Shreveport. When he's not writing about movies or television, Philip can be found being chased by his three kids, telling his dogs to stop yelling at the mailman, or yelling about professional wrestling to his wife. If the stars properly align, he will talk about For Love Of The Game being the best baseball movie of all time.