Ben Stiller, Vince Vaughn, Jonah Hill And Richard Ayoade Talk The Watch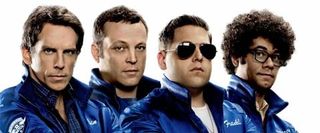 When crafting an ensemble comedy, you can do a lot worse than having names like Ben Stiller, Vince Vaughn, Jonah Hill and Richard Ayoade, and that's the exact brilliant cast that director Akiva Schaffer brought to his new film, Neighborhood Watch. A laugher about a group of men who get together as a neighborhood watch alliance and end up working to save the world from an alien invasion, the movie lets the stars play to their comedic strengths, which have been well established over the last couple of years. And those skills were on full display during a recent press conference for the movie.
This past weekend the cast of The Watch came together for a press day in Los Angeles, California, and in addition to throwing barbs and lines at each other also talked a bit about their parts in the sci-fi comedy. Check out the interview below in which Stiller talks about his character's Tom Cruise-style of running, Vaughn discusses his experience as a new father, Hill explains his choices between dramas and comedies, and Ayoade chats about how people will think he won a contest to be in a film with movie stars.
Ben, this is the third or fourth time you've worked with Vince. Coming into already having of association together made your work easier?
Ben Stiller: Jonah and I did a scene in the Night in the Museum together, which is we had so much fun doing that. We were really looking forward to work together again.
Jonah Hill: He had fun.
BS: You had fun. You said.
JH: Yeah, Yeah, whatever… I'm joking, we had an amazing time. It was my favorite day to shoot.
BS: I love working with these guys. It's great to work with the people who make you laugh and who you have fun with. Vince and I had a really fun time working on Dodgeball together and it was exciting to have a chance to do something...it had been a while for us, so it was exciting to have a chance to do something new together and being in a totally different kind of relationship, too. I'm just a fan of these guys and Richard…I met a little bit because we had been able to be executive producers of Submarine.
Vince Vaughn: [making fun of Stiller] You presented it too, though.
JH: Yeah.
BS: No, stop it.
VV: You presented Submarine.
BS: No.
JH: Yeah, Richard and Ben are both filmmakers and there was a film called Submarine which is Richard's debut film and Ben Stiller presented it.
VV: Oh, you presented the film.
BS: I didn't present it.
JH: We found a DVD that's said, "Ben Stiller presents Submarine."
BS: I just taped that in front of mine. I actually went to every theater and introduced it. But, you know, they are all just really funny guys, so and when you're a fan of somebody that really helps. Especially, a movie like this because a lot that I felt it was going to have the ability for us to have fun with each other and feel like you want to hang out with these guys. So we were actually enjoying it, the process. I hope that will translate.
Each of your characters doesn't change that much compared to a lot of modern comedies. Is it nice to lock into a character of a group like that and stick with it?
BS: I think that fun things for me is to be a part of a movie where you don't have to worry about …you can have a lot more freedom. In terms of the structure, I think that these characters were who they were, and I don't think it was about having it all sort of tied up in bow. It was more about, again, these guys hanging out and how they affected each other, but it wasn't like about teaching lessons or anything. I do think there is sort of, you know, an emotional connection these guys do have by this ending up being together and do show up for each other again. Which I think, you know, as the fact that you like sort of saying he isn't really there, or not as necessarily like that overt, I think it's actually a good thing because I feel like it's there sort of underneath the surface, but it's not kind of too sappy in that way or anything.
VV: I think the fun of it is that all the characters are kind of unique in their own ways struggling with their own things, and this kind of larger circumstance will kind of bring them all together. You kind of earn more of the friendship with that the characters were all kind of conflicted first, or they were all seeing differently, but, ultimately, I think you really earned a friendship or an understanding between the characters. So it's more about them kind of being faced with something extraordinary versus just them growing some sort of personal lives.
BS: They're just probably more realistic. This is an ultra-realistic film.
You are all very successful in movie comedies. Since Hollywood likes to put actors in boxes, is it nice to make people laugh while also fighting off aliens?
BS: I feel like first and foremost the movie is a comedy, so the action in the movie has to…it should be believable, and you should believe the aliens, but just enough that you can have the fun of the movie. Because I feel like when people come to a movie like this, they want to laugh and they are not necessarily looking for us to be these sorts of kick-ass/bad-ass hero guys. They want to feel like it makes sense for the movie, and the comedy of it. So, I feel like just sort of finding that tone that makes it feel real enough to, these real guys in that situation. And especially to the last part of the movie, we were trying to find as much humor within all this action moments. I feel like it's still a part of the same movie.
Vince, you played an over protected dad in this film, so do you think it helped for being mentally prepared for what's ahead in your future?
VV: My daughter is just nineteen, twenty months now, so I'm along away from that.
JH: What do you do when a guy rings a doorbell for prom?
VV: That happened the other day, but I said it was inappropriate. She's too young. They have to walk before they fly. But for the character what I felt was, I found is that clearly has a real friendship with his daughter. She's, you know, going down the road that he's not comfortable with. So I liked that you liked that you could tell that they have a real nice thing between them, but it's been tested in this time. And the other fun part that was a guy takes being a father very seriously, but it is really during the watch, because he wants some guys to hang out with and just sort of laugh and kind of getting away from those problems. So, I think that's something that's just relatable for all of us where we love our families, they are invested in it, but it is nice to get a break and get some perspective. But I'm a long, long way from answering those questions as far as being protective. But I have encouraged her to get on some scooters – motor scooters – motorized vehicles…that kind of stuff. I threw her in the pool, but she swam so it's fine.
Ben, your character has a very intense, Tom Cruise-style of running. Was his style of running something you were aiming for while making this movie?
BS: I think Tom Cruise's running has a huge impact on the world. I mean let's face it. Culturally. Everybody wants to run like Tom Cruise. I think Evan is a Tom Cruise fan, so he sees his moment to kind of go into his full Cruise-mode.
Jonah, have started taking on dramatic roles in addition to your comedic roles. What is the draw of comedies for you?
JH: I honestly…could not have better time making this movie with these groups of guys and…I don't know, I really like doing both. I really like doing dramas, I really like doing comedies, and they are both really different. This was, I can say, the hardest I've ever laughed just being around the group of people while you are making a movie. On a drama set that doesn't generally is not the case. These guys are people who have made me laugh for a long time, people who I've learned a lot from watching their movies before I was ever in movies.
BS: When you were a child.
JH: Yeah, when you guys were in your forties, I was like four or five or whatever. No, I don't know, I really love these guys. Ben and Vince are very important people to me from learning about comedies growing up and stuff. So, get to work with them was great. And Akiva, Richard and I were friends beforehand, so it was a great experience.
What about for you, Richard?
Richard Ayoade: What is a comedy for me? I would like to list some or why do I like them? Maybe I don't [laughs].
BS: He's a director. He's in the middle of shooting something right now.
RA: I like these fella's comedies a great deal. I think Buster Keaton is pretty good, and that whole dead-pan thing he does. Yeah, those five people are pleasing to me. I've never been in a film before, so I feel uniquely unqualified to participate in this.
JH: Is this your first movie ever, really?
RA: Yeah, I've never been in a film. Not really. I think maybe for a day. That's as much as anyone could stand previously. My wife said, and she's right, it's going to look like I won a competition to be in a film with movie stars. And there were several days when I was like, "Why are Ben Stiller, Vince Vaughn and Jonah Hill looking at me? Oh! I'm in a scene with them. I ought to start trying to act back." But yeah, that didn't happen until late in the film. Until then it's just a record of my bewildered face.
VV: Richard is so funny. It was so fun, he brought such an original voice and great ideas and is just funny in the movie. The great thing about comedies is that. That's the thing in life that we all remember. Sometimes it's just really good to go and not take things seriously and get a chance to laugh. This movie does that really well. You get a bunch of guys together from a bunch of different walks of life and at the end of the day there's a lot of laughter and a lot of camaraderie. For me, what I love about comedies is that it helps us laugh and brings us all closer together.
JH: [to Vince] Are you crying?
For Vince and Ben, with news of Anchorman 2 in production, I was interested in you would be interested in reprising your roles from the first film.
BS: Yeah, sure.
VV: Yeah.
If so, what kind of weapons would you like to use for another big fight?
VV: The tongue is mightier than the sword.
BS: Oh yeah. Your tongue for sure. I'd like that net. They had that Planet of the Apes net in that fight.
VV: That is good.
NJ native who calls LA home; lives in a Dreamatorium. A decade-plus CinemaBlend veteran; endlessly enthusiastic about the career he's dreamt of since seventh grade.
Your Daily Blend of Entertainment News
Thank you for signing up to CinemaBlend. You will receive a verification email shortly.
There was a problem. Please refresh the page and try again.