Benicio Del Toro And Gael Garcia Bernal Contending To Replace Depp As Pancho Villa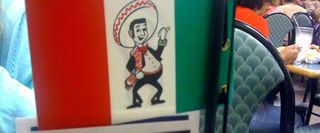 Johnny Depp was supposed to play Pancho Villa, and that seemed like a good idea. After all, if he can play a Native American then why not a notorious Mexican revolutionary general… I guess. He did play Don Juan DeMarco. Johnny Depp knows his espanol.
The movie is the awesomely titled Seven Friends of Pancho Villa and the Woman with Six Fingers which at one point was supposed to be re-titled Wild Roses, Tender Heart, which is far less awesome. It was also supposed to start shooting this month and that didn't happen. What I'm getting at here is that the whole project has sort of turned into a mess.
So it should come as no surprise to hear that Depp has dropped out and will no longer be playing Pancho, who after his work as a general later went on to found a chain of low-rent tex-mex buffet restaurants with unlimited enchilada refills which can be procured by the raising or lowering of a flag.
Whoops, I've just been told that last part, about founding the restaurant Panchos, is untrue. Seriously though, don't eat there. It's not good.
Johnny's out and the movie still exists, so director Emir Kusturica is looking for a new Pancho Villa. Blic reports that it's a two horse race, with the production likely to go with either Benicio del Toro or Gael Garcia Bernal as their leading man. Meanwhile Salma Hayek, attached to the project when Depp was still on board, remains involved. The title is also going back to Seven Friends of Pancho Villa and the Woman with Six Fingers. Now that they're getting this thing back on track, with a title like that, this has to be good.
Your Daily Blend of Entertainment News
Thank you for signing up to CinemaBlend. You will receive a verification email shortly.
There was a problem. Please refresh the page and try again.