Benicio Del Toro, Jamie Foxx And The Spring Breakers Guy Are Making A Weird Movie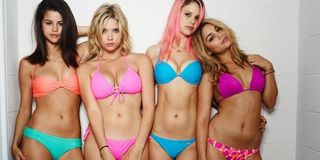 Harmony Korine's new film The Trap will star Jamie Foxx and Benicio Del Toro. The film has been described as a Southern revenge flick, and it will be Harmony Korine's first effort since 2013's highly divisive Spring Breakers.
The Hollywood Reporter have confirmed that the acting titans will join up together for the bizarre movie that will revolve around two childhood friends who are now in their late 30s. One of them has had a very successful life while the other has spent a long period of time in jail. And then, "on the eve of a big recognition for the successful man, the other is released from jail and determined to get even."
It's currently not known which characters Jamie Foxx and Benicio Del Toro will play. But their acting dexterity means that they could both play either with aplomb.
On the face of it the film actually doesn't sound that peculiar. However don't forget Harmony Korine is the man who has overseen some of the most boisterous and controversial films of the last 20 years. His last effort, Spring Breakers, was a beguiling look at the spring breaker phenomenon that embraced both the gangster genre and mainstream pop culture. Plus it was almost blindingly bright and its bubble gum façade soon gave way to a sour subtext. And let's not forget that it was also probably James Franco's finest ever performance. You can check out probably the most bizarre clip from Spring Breakers here...
Meanwhile Harmony Korine has also overseen a bevy of other peculiar cinematic adventures too. Gummo, Mister Lonely and Trash Humpers as well as Julien Donkey-Boy were all splendidly unique, not quite perfect movies. But it was Spring Breakers that helped to promote Harmony Korine back onto the fringes of mainstream American cinema. That's why he has been able to entice the stellar talents of Benicio Del Toro and Jamie Foxx to star in his follow-up. Variety have also alleged that The Trap will be an "ensemble gangster drama" so hopefully some exciting casting announcements regarding further additions will be made in the near future.
The Trap will also be a welcome change of pace for both Benicio Del Toro and Jamie Foxx. Over the summer the duo appeared in the huge blockbuster superhero films Guardians Of The Galaxy and The Amazing Spider-Man 2. Of course these films substitute deep character exploration and the chance for an actor to truly expose their acting talent for spectacle, action and explosions. The Trap will allow the pair to go as wild as they want. And with Harmony Korine you never really know what that's going to entail.
Your Daily Blend of Entertainment News
Thank you for signing up to CinemaBlend. You will receive a verification email shortly.
There was a problem. Please refresh the page and try again.