Beverly Hills Cop 4 Coming 22 Years After The Last One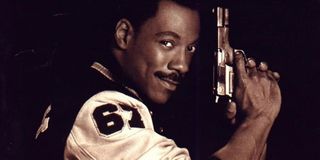 Axel Foley is easily one of movie's most beloved smartasses, and Paramount Pictures is bringing him out of retirement in two short years. It's official, Beverly Hills Cop 4 will hit theaters on March 25th, 2016.
Deadline notes there are no other movies currently scheduled for that opening, which isn't surprising as it's still a ways off. But this newly announced release date suggests the project will not be shooting this summer, as was recently rumored.
Beverly Hills Cop 4 will see Eddie Murphy reprising his role as the rule-breaking, wise-cracking cop. he screenplay, penned by Josh Appelbaum and Andre Nemec, co-writers of Misson: Impossible - Ghost Protocol and the upcoming Teenage Mutant Ninja Turtles reboot, will take Axel back to his roots in Detroit. Bret Ratner will direct, making the latest entry in the Beverly Hills Cop movies his follow-up to the underwhelming Eddie Murphy/Ben Stiller comedy Tower Heist.
Beverly Hills Cop 4 has been in-development for years already. Brett Ratner was first attached back in 2008, when producers were shooting for a 2010 release date. Shortly thereafter, Ratner teased that this sequel to a string of R-rated action comedies would be toned down to make it appeal to kids. But a month later he turned around and promised, "a hard core R" rating for the film. Next, an early (and unpromising) draft surfaced a few months later, and then word on Beverly Hills Cop 4 died.
While promoting Tower Heist in 2011, Eddie Murphy insisted the Beverly Hills Cop sequel was dead, and a TV spin-off about Axel's son was in the works. This was eventually pitched to CBS, which ordered a pilot from Murphy and Shawn Levy. Barry Sonnenfeld was lined up to helm it, and Murphy was being setup to cameo, with an eye to a recurring role. But ultimately, CBS passed.
With summer 2013, Beverly Hills Cop 4 came roaring back to life with Applebaum and Nemec hired to pen it. Just last month, producer Jerry Bruckheimer confessed the screenplay is still being finalized, but promised Murphy was on board, and pleased. He was even optimistic that production might kick off by the end of summer this year. However, a spring 2016 release date suggests they are still a ways away from shooting this cop comedy.
However, Beverly Hills Cop 4 is on the books. It's got its star, its director, a script people will actually talk about, and Jerry Bruckheimer Films and Paramount Pictures pulling it together. It's happening. Whether or not that's a good thing is a whole other issue.
This poll is no longer available.
Your Daily Blend of Entertainment News
Staff writer at CinemaBlend.
Your Daily Blend of Entertainment News
Thank you for signing up to CinemaBlend. You will receive a verification email shortly.
There was a problem. Please refresh the page and try again.