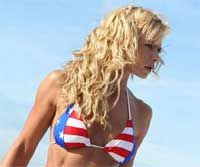 Jamie Pressly is so good playing trailer trash on NBC's "My Name Is Earl", that I now have a hard time seeing her as "sexy". I look at her, and I just see skank. It's burned into my head.
For those of you who haven't lost the ability to appreciate her feminine beauty, the folks from DOA: Dead or Alive have a treat for you. Gratuitous Jamie Pressly bikini stretching!
Dimension has released a new batch of stills for the upcoming T&A touched action movie. To be fair, they are actual images from the movie… so maybe they're not exactly gratuitous. However they do seem to have a singular um… focus? But then so does the movie. You folks know what you're getting into if you see it.
I've stuck a sample pic to your right, to see them all in sweet high-res glory just visit our photo gallery.
If after seeing that you're not sure you can wait a few more months to see this, well, whatever this is, bad news. Dimenion has moved the movie's release date. It's now opening October 20th instead of August 25th.
Your Daily Blend of Entertainment News