Birdman Trailer And Poster Suggest Michael Keaton Might Be Crazy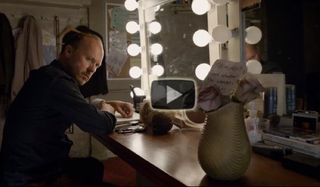 Birdman has arrived. And now he has a new title? Apparently we've all been tricked, because Alejandro Gonzalez Inarritu's latest, a hypnotic showbusiness comedy, goes by the title Birdman, Or The Unexpected Virtue Of Ignorance. What, you didn't think the director of Babel was going to get out of this wacky comedy without a little bit of high-falutin' fanciness?
Michael Keaton is the standout here, which is nice after years in the wilderness spent in limited supporting roles. He plays an actor famous for playing a superhero who, at wit's end, launches a desperate Broadway play version of his popular source material. Tensions, as you can imagine, rise. Far enough to give Keaton that ridiculous hairdo at the start of the clip while Gnarls Barkley's Crazy plays. And far enough to end this trailer in fisticuffs.
That would be Edward Norton whom he's brawling with. Norton is just one of the many decorated cast members in this film. Norton looks like the actor who just might be playing Birdman on-stage; given that Keaton is mocking his own image as Batman, perhaps Norton is poking fun at his penchant to get involved with scripts and post-production. Keaton's character apparently has a relationship with a woman played by Naomi Watts, while Zach Galifianakis might be part of the stage crew. There's also Andrea Riseborough, Amy Ryan, and the always-welcome Emma Stone filling out the supporting cast.
As for the look of this thing... well, it's not a surprise that it's Fox Searchlight and not 20th Century Fox. No one knew what to expect when Inarritu announced he was writing and directing a comedy, and now that we've seen it, we still don't know what to expect. Inarritu looks like he shoots the one-on-one encounters with with uncomfortably long takes and a tight lens. Which is interesting, if not exactly crowd-pleasing. And the effects sequences that, probably, are peeks of the Birdman movie within a movie, employ pretty extensive CGI, creating a giant bird-creature that frankly looks a little terrifying. This whole clip feels like it's just teetering on the edge of insanity, without actually getting there.
Birdman, which beyond everything just looks gorgeous, is scheduled for October 17th, which is a curious time period. Either it's an ersatz Oscar contender looking to enter the race quietly before November's heavy hitters, or it's a prestige oddity that Fox is looking to put out quietly to art house crowds. Fingers crossed for the former, if only so something this kooky can play in theaters nationwide.
Your Daily Blend of Entertainment News