Black List Screenwriter To Adapt Angelology For Will Smith's Production Company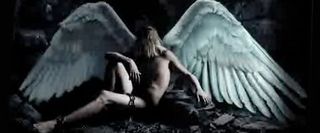 Through his ambitious production company, Overbrook Entertainment, megastar Will Smith has been crafting a diverse range of projects. To name just a few of his most recent ventures there's the board game-inspired war dramaRisk, the Willow Smith-fronted remake of the musical Annie, and the Will and Jaden Smith-fronted M. Night Shyamalan post-apocalyptic adventure One Thousand A.E. And now Deadline reports a new development on Angelology, a supernatural thriller based on Danielle Trussoni's fantasy novel.
Sony Pictures, which is co-producing the film with Smith and James Lassiter of Overbrook and Marc Forster of Apparatus, has hired screenwriter Larry Brenner to craft the adaptation's script. Brenner is best known for having scored a coveted spot on the 2011 blacklist for his zombie and vampire-packed post-apocalyptic venture Bethlehem, and seems a great fit for Angelology, as it too has a batch of mythical beings at its center.
Angelology follows 23-year-old Sister Evangeline, a meek nun who accidentally becomes entangled in the brewing conflict between a group of angelologists—researchers dedicated to the study of angels—and a nefarious organization looking to harness the power of fallen angels for their own ends. Its premise is often compared to the wildly popular, religion-fueled mystery-adventure The DaVinci Code, so it's little wonder the book set off a bidding war in 2009 that resulted in a $1 million deal for Trussoni. However, online reader reviews on the novel are mixed at best, so it's a smart move to bring in a buzzed-about screenwriter to give the puzzling story some shape and texture.
At this point little else is known about Angelology. Though early reports had Forster (Machine Gun Preacher, Quantum of Solace) attached to direct, no mention is made of this possibility in Deadline's latest update. Of course, being an Overbrook production, it's possible we'll soon hear word that one of the Smiths will be stepping into one of the feature's major roles.
Your Daily Blend of Entertainment News
Staff writer at CinemaBlend.
Your Daily Blend of Entertainment News
Thank you for signing up to CinemaBlend. You will receive a verification email shortly.
There was a problem. Please refresh the page and try again.