Blonde Model Joins The Fast And The Furious 6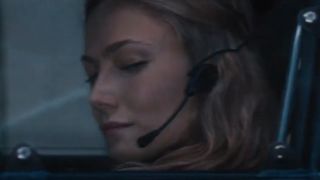 (Image credit: Universal )
Action auteur Justin Lin is revving up to shoot The Fast and The Furious 6 at Shepperton Studios in Surrey, England, and has just added some local talent to the film series ever-expanding ensemble. The U.K.'s Daily Mail reveals high fashion model Clara Paget has signed on to play Vegh, a character described as a 'gun-slinging action woman,' whatever that means.
The Fast and The Furious 6 is presumed to take up where Fast 5 left off, with Vin Diesel, Paul Walker and Jordana Brewster's characters on the run with Dwayne Johnson's hulky cop in hot pursuit. The plot for the picture is being kept under wraps, though the after credits scene of Fast 5 revealed Michelle Rodriquez's brassy car thief Letty is back in play. We do know MMA fighter turned action heroine Gina Carano will join forces with Johnson, but there's no word on whether Paget will play a cop or a car thief.
Though often described as an actress/model, Paget's roles in film have been largely minor so far, including credits as waitress in Johnny English Reborn and cocktail waitress in One Day. So, safe to say this will be her biggest break as an actress to date. Lucky for her, with so much screeching wheels and high-octane action, there won't likely be much call for more than looking unfazed and sexy.
In other Fast 6 news, Lin has plans to reek Fast and Furious havoc on Piccadilly Circus with an action sequence that involves blowing up an oil tanker. Local authorities wouldn't allow Lin permission to shoot that scene on location, so a replica of the iconic London landmark was built in Surrey, where Lin could do whatever his adrenaline-fueled mind dreamed up. He has also admitted hopes to shoot chase scenes on location at Canary Wharf and in Liverpool, but representatives for the film have refused to confirm or deny if such scenes will ultimately be shot.
Your Daily Blend of Entertainment News
Staff writer at CinemaBlend.