Bloodshot Comic Series Heading To The Big Screen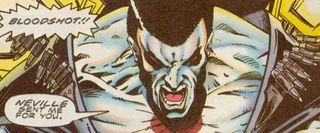 With comic book movies being all the rage the past several years, producers have scrambled to snatch up the rights to nearly every superhero of note. We've seen a string of Spider-Man and Batman movies, Superman's getting another shot at the spotlight next year, and Iron Man, Captain America, Thor and the rest of the Avengers are soon to assemble for some summer fun. Hell, even Green Lantern had a misguided chance to take to the big screen. At this point, who is left to build an action franchise around? According to writer-director Jeff Wadlow, the answer is Bloodshot.
The burly antihero from Valiant Comics' popular eponymous series started out as mob hitman Angelo Mortalli. But after entering the witness relocation program, he was subjected to an experimental treatment that injected "nanites" into his system, which enhanced his strength and dexterity along with some other handy super powers, making him an unmatched slaughter machine. Regrettably, the side effects to this radical procedure included total amnesia. Now with no idea who he is, Bloodshot sets out to discover his identity while taking on the mob and any cops who try to stop him.
As this coming book character has a twisted backstory, super killing powers, and a serious axe to grind, he seems a supremely solid choice for a movie adaptation. But THR reveals what drew Sony's Columbia Pictures to the property was a spectacular spec script penned by Wadlow. Unfortunately, we have no details on the specifics of this buzzed-about screenplay; however, as Wadlow co-wrote and helmed the razor-sharp but woefully undervalued horror-mystery Cry_Wolf, which deftly toyed with slasher genre conventions, it's easy to imagine he has created something repulsive yet intriguing.
Columbia president of production Hannah Minghella spoke out about the studio's enthusiasm to bring Bloodshot to the big screen, saying:
Moritz has served as a producer on all five Fast and the Furious, so his reputation at shepherding successful action franchise's is trumpeted. Still, I'll be curious to see if Sony gives Wadlow a shot to helm the project he got rolling. In the meantime, those unfamiliar with Bloodshot will have a fresh opportunity to get to know this ghoulish anti-hero as Valiant is re-launching the series this May.
Staff writer at CinemaBlend.
Your Daily Blend of Entertainment News
Thank you for signing up to CinemaBlend. You will receive a verification email shortly.
There was a problem. Please refresh the page and try again.