Borat 2 Moviefilm Comes Soon - Updated!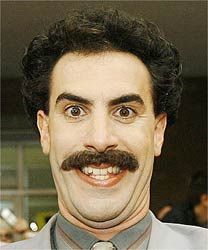 The word is out. Sacha Baron Cohen will be back with more Borat before you know it. That's right, he's planning Borat 2.
The story first broke in November when Borat-mania was at its highest temperature. But it's only now that Cohen signed on the dotted line. Reuters reports that Rupert Murdoch announced the signing on Thursday saying, "He's signed up to do a sequel for us."
So it's official. Get ready for more genius discomfort from Borat. Prepare to enjoy more of his fat friend's anus. He'll be back.
Meanwhile, Cohen still has that other movie in production. The film based on his other character, the gay fashionista Bruno. Last we heard Bruno would be made first, so it may be more than a year or two before Borat makes a triumphant return to America. Will it work twice? Are people really that gullible? Probably. You and I may be wise to Borat, but are your parents? Probably not. Cohen still has plenty of clueless people to pick on.
UPDATE! It looks like Murdoch may have spoken too soon. Shortly after he blabbed about the certainty of Borat 2, a studio spokesperson countermanded his statement by saying that the film is merely "under consideration". So we're right back where we started.
Your Daily Blend of Entertainment News