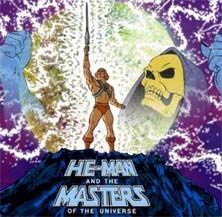 With his undeniable masculinity and questionable sexual orientation, He-Man defended Eternia against the evil Skelator on comic book pages, a TV Show, a toy line and on the silver screen in 1987. Legendary Pictures – the team behind Superman returns -- has the power to bring He-Man back to the screen and Castle Greyskull crumbling to the ground. But this time around Brad Pitt will be filling Dolph Lundgren's He-Man shoes, says The Sun Online.
"They are very keen on Brad for the role. He'll have to bulk up though — he's very fit but not to He-Man proportions," said an ominous voice from atop Castle Greyskull.
A He-Man movie? Brad Pitt starring? This one smells like a rumor and a stinker at that. Unless, the Devil is finally cashing in Pitt's soul. In that case, expect Pitt to be yelling, "I have the power!" by the end of the summer.
Your Daily Blend of Entertainment News