Brad Pitt Out Of James Gray's Spy Thriller The Gray Man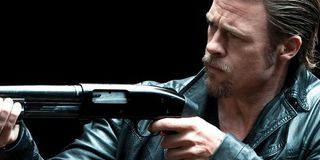 Between exciting exploits, sexy honeypots, and heaps of hi-tech gadgetry, who doesn't want to be a movie spy? Well, for now, Brad Pitt. The A-lister who has been attached to the espionage thriller The Gray Man since 2011 has dropped the project, according to film reporter Jeff Sneider, who broke the news on Twitter today.
Adapted from the Mark Greaney novel The Gray Man was to star Pitt as Court Gentry (A.K.A "The Gray Man), a spy/assassin who is notorious for his stealth and pristine (read: deadly) track record. While out on a job in the Middle East, he's shocked to discover that he has been determined more dangerous than valuable, and so the team set to retrieve him also plans to annihilate him. With his life on the line, Gentry must put all his spy skills to the test to evade his captors and save his own skin.
The Gray Man was Greaney's debut thriller novel. But notably it has spun into a trilogy that includes On Target and Ballistic. There's no word at present as to whether or not New Regency, the production company behind The Gray Man, was hoping to spin this adaptation into a spy-thriller franchise with Pitt at the center. But with Pitt departing the pic, director James Gray is currently in search of a new leading man. Having recently wrapped on The Immigrant, perhaps he'll attempt to reteam with one of that drama's male lead, Jeremy Renner and Joaquin Phoenix.
Pitt's not revealing his reason for departing, but as Sneider points out, in-development projects usually see their casts shift during the process. While The Gray Man soldiers on without Pitt, audiences can look for the charismatic star this summer in Marc Forster's zombie-packed, potentially troubled action pic World War Z.
Staff writer at CinemaBlend.
Your Daily Blend of Entertainment News
Thank you for signing up to CinemaBlend. You will receive a verification email shortly.
There was a problem. Please refresh the page and try again.