Brad Pitt And Ryan Reynolds Eyed For Gunsmoke Remake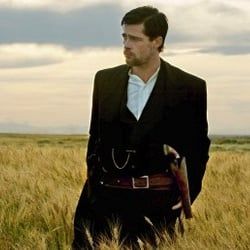 Help me out-- are Westerns in or out right now? It seems that every time a movie with a vaguely Western feel is a hit, the media goes nuts proclaiming that the Western is back, and suddenly all small children will carry toy pistols and cowboy hat, and every leading man will be riding a horse. Last I checked, though, no studio was churning out dozens of low-budget Western programmers as they were in the 40s and 50s heyday, and Bradley Cooper would probably look uncomfortable as all hell in spurs.
Still, the attempted revival of the Western continues unabated, probably because, just like in the old days, they're cheap to make. The latest high-profile attempt is a movie version of Gunsmoke, the long-running TV series about a Kansas lawman. The Los Angeles Times is reporting that the casting process has begun, and both Ryan Reynolds and Brad Pitt's names are being tossed about in consideration.
Hilariously, the main character of the show is named Matt Dillon, and yet, our beloved real Matt Dillon is nowhere in consideration (he's busy starring in Armored and that other movie that looks a lot like Armored). The studio wants Pitt because he was pretty convincing in The Assassination of Jesse James, while Ryan Reynolds wants on board because he apparently playing both The Green Lantern and Deadpool isn't keeping him busy enough.
No director is on board yet, which means we won't hear final casting announcements for a while. So while the part is open, any dream casting suggestions? Do you in fact think Bradley Cooper would look awesome in spurs? I may have to argue with you on that, but go ahead and tell me if you dare.
Your Daily Blend of Entertainment News
Staff Writer at CinemaBlend