Bradley Cooper Confirmed As Guardians Of The Galaxy's Rocket Raccoon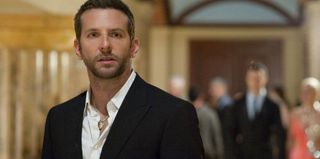 It was one of our favorite superhero scoops in recent weeks, and now it's official: Bradley Cooper will lend his voice to the machine-gun-toting Rocket Raccoon in Marvel's Guardians of the Galaxy. Confirmed today by Marvel via press release, the casting first broke last week, when Latino Review first reported that Cooper had been offered the part. The confirmation from Marvel contained, as you might expect, not a ton of new information to work with, not even the typical quote from an actor or a director about how excited they are to work with each other.
That lack of information probably makes sense, though-- Guardians of the Galaxy is already well underway into production in London, with cast members posting occasional set photos and buff selfless. For actual information on the film, or footage for that matter, you had to be at Comic-Con, where director James Gunn and most of the cast took the stage to present a carefully cut-together sizzle reel of footage that immediately quelled the fears of many fans. The line "Guardians of the Galaxy? What a bunch of a-holes" also ought to comfort anyone who thinks that this spacey adventure is a little too serious sci-fi for their taste (I admit, I was one of those people).
The fact that one of the main characters in Guardians is a raccoon will be a tough pill for many moviegoers to swallow. Will the fact that an Oscar-nominated, highly likable actor like Cooper is voicing the rodent make a difference? I'm guessing not, but you never know-- most everything about this movie has managed to surprise us so far. Guardians of the Galaxy is due in theaters August 1 next year, and Cooper is likely to have two other projects out then-- the now Clint Eastwood-directed American Sniper and the still-untitled Cameron Crowe movie, which pairs Cooper with Emma Stone and includes Alec Baldwin, Danny McBride and Rachel McAdams among the cast. I guess when you're a guy as obviously good-looking and talented as Cooper, every year really is better than the last.
Here's a look at Cooper in his next role, with a Jheri curl that just won't quit, in David O. Russell's American Hustle, which comes to theaters in December and we think has a pretty damn good shot at winning Best Picture.
Staff Writer at CinemaBlend
Your Daily Blend of Entertainment News
Thank you for signing up to CinemaBlend. You will receive a verification email shortly.
There was a problem. Please refresh the page and try again.