Bradley Cooper Talks About Writing The Hyperion Movie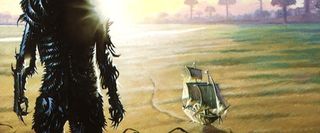 A movie version of Dan Simmons' Hugo Award-winning Hyperion Cantos has been in the works for several years now, but we haven't heard much about it lately. The original plan was to combine the first two books in the series -- Hyperion and The Fall of Hyperion -- into a single screenplay, and writer Trevor Sands was working on doing just that. Then the project went silent for quite a while, until it reappeared in a way nobody would have expected: while appearing on Charlie Rose back in May, Bradley Cooper said that he was in negotiations to write the Hyperion screenplay. Check out the interview, beginning at the 18:45 mark.
If you're at work or can't watch the video, here's the gist: Cooper and his writing partner wrote a treatment for the movie on spec (that's Hollywood for "for free") and approached the rights holders for the books. Apparently their treatment was solid, because they got the gig. Now, in an interview with Metro, Cooper has provided a brief update:
It's not much, but it does at least confirm that the project is still alive and that Cooper and his partner are still writing it. While Cooper doesn't have a proven writing background, the sheer fact that he's a) heard of and b) passionate about the Hyperion books means I'll give him the benefit of the doubt. The Hyperion series is notoriously dense and has a reputation as being impossible to adapt, so if he's got a pitch that impressed the Powers That Be, more power to him. After all, they said L.A. Confidential couldn't be adapted either.
For those unfamiliar, the Hyperion books are set in the distant future and revolve around a planet of the same name. Hyperion is home to two great mysteries: ruins called the Time Tombs and The Shrike, their ferocious guardian. The Shrike is a metallic creature, seemingly immortal and invulnerable, that is worshipped by some as a sort of god. The first two books follow a group of travelers and pilgrims who are visiting Hyperion for various reasons, and is structured as a frame story, much like Geoffrey Chaucer's The Canterbury Tales.
Neither the original interview nor this new update mention whether Cooper and his partner are following the original plan to adapt the first two books into a single film or not. While the books are quite weighty, Hyperion and The Fall of Hyperion are tied together very closely, so I can see if making sense to make them into one movie. Whether that can actually be done in a way that honors the source material...that's a whole other question.
Your Daily Blend of Entertainment News
Thank you for signing up to CinemaBlend. You will receive a verification email shortly.
There was a problem. Please refresh the page and try again.