Breaking Dawn Sex Scene Cut Down To Avoid R Rating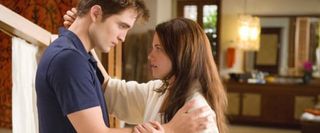 The Twilight movies thus far have mostly been about repressed feelings, whether Jacob trying not to transform into a werewolf and rip the head off Edward or Bella, as always, trying not to have furious vampire sex with Edward. But in Breaking Dawn, all bets are off-- Edward and Bella are married, and not only are they ready to consummate their love, but it results in a half-human, half-vampire baby that requires ripping Bella apart to be born.
And even though they're saving that bloody affair for the second half of Breaking Dawn, the first half, coming to theaters on November 18, is no slouch in the scandal department either. In fact, in an interview with Glamour UK Stewart said the sex scene between Edward and Bella on their wedding night was so steamy it initially got an R-rating from the MPAA. And Stewart, after spending years playing the buttoned-up and awkward Bella, said it felt a little weird to be bringing the character into a new phase of her life:
I'm not sure if anyone who's not already a Twilight super-fan will wind up seeing Breaking Dawn, but as someone who will have to see it to review it, I'm hoping the movie will feel as different from the others as it did for Stewart. I'm pretty sick of watching a bunch of pale teenagers stare goggle-eyed at each other, and even if the "steamy" sex scene isn't nearly as dramatic as it's being promoted, it'll at least be something a little different . Don't let me down, K-Stew!
Your Daily Blend of Entertainment News
Staff Writer at CinemaBlend