Bret McKenzie Developing Movie Musical Inspired By Labyrinth And The Princess Bride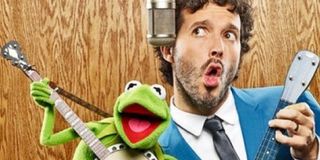 Funny music man Bret McKenzie won the hearts of kids of all ages with his toe-tapping and heart-warming songs for the 2011 adventure The Muppets. And it seems the New Zealand native can't get enough of working with Muppets as he's looking to follow-up the sequel Muppets Most Wanted with a movie musical of his own making. While talking to Collider about the upcoming Austenland, in which he plays a romantic lead, McKenzie confessed he has been developing a fantastical musical comedy with The Muppets co-writer and director James Bobin that would feature singing monsters and dragons (Possibly a racist dragon?) McKenzie explains:
Typically, someone presuming to make a movie like beloved childhood classics Labyrinth or The Princess Bride would make me role my eyes at their arrogance (The very nerve!). However, McKenzie has proven himself to be a talented comedian, clever storyteller and above all a sensational songwriter.
Not so long ago McKenzie was one half of a little-known musical comedy act called Flight of the Conchords. In 2007, he and his bandmate/fellow Kiwi Jemaine Clement translated their stand-up into the hysterical HBO series named for the band. Flight of the Conchords aped a wide array of musical styles while unfolding the story of two well-meaning but dopey musicians scraping by in New York City. It not only earned the pair a fierce fandom, but also a whopping 10 Emmy nominations fin just two seasons. Get a taste of their madcap music below with "I'm Not Crying."
From there McKenzie was plucked to pen songs for The Muppets, which re-teamed him with Flight of the Conchords helmer Bobin. Considering the songs from Jim Henson's Muppet movies—like "Rainbow Connection"—are greatly loved, McKenzie seemed doomed to fail if only because people would be beholden to the Muppets' old guard. But who could not be pulled in by such funny and heartfelt songs as "Me Party," "Life's a Happy Song," and "Man or Muppet?" The Muppets won critical praise, and McKenzie won an Academy Award for the last number. Let's revisit that, shall we? Listen for McKenzie singing in the chorus as Gary's doppelgänger.
Basically, if anyone can make a movie that captures the wonder and whimsy of Labyrinth and The Princess Bride with a quirky and cool soundtrack to boot, I believe it's McKenzie and Bobin. Of course, their only working on the screenplay for now, so we likely have years ahead of us before this unnamed musical comes to fruition. Until then, we'll just have to keep revisiting these music vids, and look forward to Muppets Most Wanted, which is set to open on March 21st, 2014.
Your Daily Blend of Entertainment News
Staff writer at CinemaBlend.