Bridesmaids Cop Chris O'Dowd Joins Apatow's Knocked Up Spin-off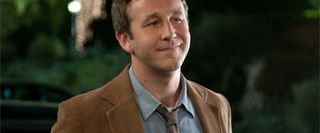 One of the most pleasant surprises in Bridesmaids, and there were quite a few, was actor Chris O'Dowd. He played the movie's Irish cop love interest to pitch perfect perfection, equal parts funny and kind, capable of taking over a scene but willing to hang back and let Kristen Wiig own the movie in spite of it. He's a fairly well known television star in the UK, where he's one of the best parts of the genius (and available on Netflix Instant Streaming) comedy series The IT Crowd, but a virtual unknown here in the States. That's about to change.
Judd Apatow is bringing him even further into the fold by casting Chris in his next directorial project. O'Dowd is currently in negotiations to join the cast of Judd's as of yet untitled Knocked Up spin-off, you know the one, it'll be about Paul Rudd and Leslie Mann's married couple characters. He's one of several new names being added to the existing cast of Rudd, Mann, Albert Brooks (as Paul Rudd's father), and Megan Fox. The other new names include Lena Dunham, Charlene Yi, and Wyatt Russell (Kurst Russell's son).
O'Dowd and Dunham are being hired to play employees at the indie record company owned by Paul Rudd, Wyatt Russell will be a hockey player (I have no idea how that fits in), and Charlene Yi will be back as the character she played in Knocked Up. What, you don't remember Charlene Yi in Knocked Up? She was one of Seth Rogen's loser, stoner friends.
For me the exciting thing here is that Bridesmaids has turned O'Dowd into sort of a hot commodity in Hollywood. Apparently he's being deluged with all sorts of offers. The fact that he had the good sense to choose another Judd Apatow movie as his next step, means he's headed in the right direction.
Your Daily Blend of Entertainment News