Brilliant Video Dives Deep In The Brutal Ending Of David Fincher's Se7en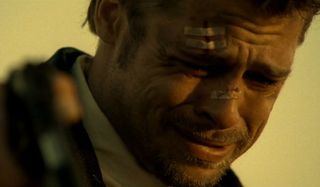 There's no denying the fact that Se7en possesses one of the most brutal endings in Hollywood history. Those of you who haven't seen it are truly missing out, especially because it also means that you can't watch the below video, which goes into minute detail about how David Fincher, Brad Pitt, Morgan Freeman and Kevin Spacey forged the iconic scene. Those of who have seen Se7en need to get this video into your lives. Immediately.
I've said it before and I'll say it again: There's nothing better than seeing a talented director in his pomp. And Se7en is David Fincher, who is arguably the most meticulous and visceral filmmaker currently working in Hollywood, at the height of his powers.
Cinefex dives into Fincher's past, and his journey towards the iconic filmmaker he's become today. A filmmaker we may have never known so well, because after making his debut with Alien 3, which was a torrid production that only resulted in woeful reviews, Fincher swore off Hollywood all together, insisting that he'd rather get colon cancer and die than make another movie.
Fortunately for us, neither of those happened, and after accidentally getting the original, and horribly bleak, draft for Andrew Kevin Walker's script for Se7en, Fincher found his route back into the system. Of course, because of just how morbid the ending to Se7en is the studio immediately sought to change it, coming up with woeful alternatives, one of which included Somerset (Morgan Freeman) finding the head of a dog instead.
Thankfully, the presence of Brad Pitt, who insisted that the ending to Se7en would stay exactly as intended otherwise he'd leave the project, made sure that nothing was altered. And thus, David Fincher was able to give the preceding 2 hours of Se7en, which had been grim, grotesque, and gory, the payoff it deserves.
But how did David Fincher achieve that? Well, by not really overcomplicating things. For Se7en's entire running time all we'd had was rain pouring down, while for the finale he brought us to the sun-drenched desert, and that isolated Somerset, Mills (Brad Pitt), and John Doe (Kevin Spacey).
With the arrival of the Fed-Ex box, which possesses a box that has the head of Mills' wife, Tracey (Gwyneth Paltrow), in it, everything is then ratcheted up infinitely. Suddenly, Somerset knows that John Doe "has the upper hand," and with David Fincher getting tighter and tighter on Kevin Spacey's face he becomes more and more sadistic, while we see Mills slowly slipping towards the temptation of redemption.
The revelation of Tracey's pregnancy then a flash of her face provokes Mills to finally pull the trigger, and thus brings an end to Se7en, one of the finest thrillers in Hollywood history. Sure, CineFix didn't like the film's coda, which sees Somerset quoting Ernest Hemingway by reciting, "The world is a fine place, and worth fighting for," and then adding, "I agree with the second part." But I think it provides a rare glint of hope in an otherwise overwhelmingly dark piece.
Plus, as CineFix points out, Se7en almost finished with Al Pacino discovering the head of Sly Stallone's dog's head in the box, before he then shot Val Kilmer, we can all agree that the above version is much, much better.
Your Daily Blend of Entertainment News
Thank you for signing up to CinemaBlend. You will receive a verification email shortly.
There was a problem. Please refresh the page and try again.