Broadway Whiz Kid Heads For The Movies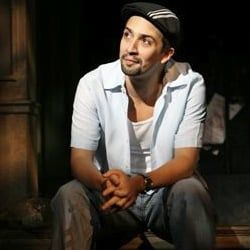 If you don't follow Broadway you may not be that familiar with Lin-Manuel Miranda, the 29-year-old whiz kid who created, wrote the lyrics for, and starred in the Tony-winning musical In the Heights. But he's been the talk of New York for a while now, and the pride of my alma mater Wesleyan University, which is proud to prove that Wesleyan graduates under the age of 30 are actually capable of making money.
And now Miranda will be making the big kind of money-- the Hollywood kind. He's signed an overall development deal with DreamWorks Animation, and will create an animated musical alongside High School Musical writer Peter Barsocchini.
The match-up between a High School Musical writer and a young Broadway phenom may seem strange, but the HSM are pretty splendidly structured musicals, and Miranda's script for In the Heights wasn't quite perfect. It's his gift with lyrics that DreamWorks is probably interested in, and would translate perfectly to the screen.
DreamWorks Animation co-president of production Bill Damaschke explained to Variety his big plans for Miranda. "I was immediately captivated by him as a performer and a writer. At DreamWorks we want to figure out a way to do an animated musical in the way Jeffrey (Katzenberg) did at Disney in the '80s. That team found a way to make an animated musical. Our plan is to do something unique and really innovative. It's been a long time since there's been an animated musical that pushed the medium forward."
Your Daily Blend of Entertainment News
Staff Writer at CinemaBlend