Bryan Cranston Joins Ryan Gosling In Drive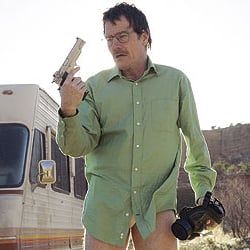 It looks like things really are moving along with the adaptation James Sallis' novel Drive. In February we got the first bit of news on the film in quite a while and it was big; Hugh Jackman was out, Ryan Gosling was in and Neil Marshall had been swapped for Nicolas Winding Refn.
Now, with Refn's Valhalla Rising out in theaters, he's busy talking to the press and naturally, being asked about Drive. In an interview with Film School Rejects, Refn revealed that he's been doing some casting. He said, "We signed Bryan Cranston. I wanted him and I got him. He's my favorite actor around." So Cranston is in, but there's no word on whom he'll be playing.
Gosling stars as a stuntman by day, getaway driver by night. Based on that information alone, most are likely eager to call Drive an action film, but Refn is emphasizing that it's more of a love story. For those of you who read Sallis' book, is that true? Also, any idea of who Cranston could be playing? Regardless, I'm curious to see what Cranston is capable of on the big screen. Like most, I primarily know him from Malcolm in the Middle and his hit AMC show Breaking Bad, but now it seems like Cranston is making a serious shift to features. On top of Drive, he's got Tom Hanks' Larry Crowne, the Barsoom series adaptation John Carter of Mars and a few more films on the way.
Your Daily Blend of Entertainment News
Staff Writer for CinemaBlend.
Your Daily Blend of Entertainment News
Thank you for signing up to CinemaBlend. You will receive a verification email shortly.
There was a problem. Please refresh the page and try again.