Cameron Crowe Defends Emma Stone's Controversial Casting In Aloha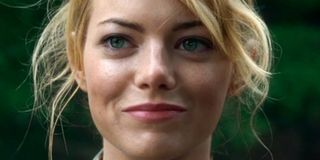 Aloha, Cameron Crowe's latest film, hit theaters this past weekend and, unfortunately, the controversy surrounding Emma Stone is far more interesting than the movie itself. The Amazing Spider-Man star took the role of Allison Ng, a quarter Hawaiian woman with a half-Chinese father. This casting caused some backlash among moviegoers. Since then, the filmmaker has released a letter online to defend Stone and apologize for the whole ordeal.
The letter in question is called "A Comment on Allison Ng" and is posted on Crowe's official site. The full transcript can be read here, but he begins by describing Aloha as a misunderstood film that became increasingly so amid the Sony hacking scandal. If you recall, a leaked email from Amy Pascal caught the former studio head saying how she'll never work on another movie like this when the script is ridiculous. But now all anyone can talk about is Stone's casting as Ng, and Crowe would like to offer his apologies, writing:
However, he continues by adding how the character, though proud of her ethnicity, doesn't outwardly look like a Hawaiian, and she's based on a real-life local. Furthermore, he states that many Asian Americans, Native Hawaiins, and Pacific Islanders were employed both in front of and behind the camera, including Dennis "Bumpy" Kanahele and his village, to ensure authenticity. Although, he's taking all the comments to heart. He wrote:
Aloha stars Stone, American Sniper's Bradley Cooper, True Detective season 2's Rachel McAdams, and folks like Bill Murray and Alec Baldwin. The story centers on a military contractor (Cooper) who messes up big time and returns to Oahu, which is connected to his greatest career triumphs and is where he reconnects with an ex-girlfriend (McAdams). At the same time, though, in walks in his Air Force liaison (Stone) to put a kink in his romance chain. Unfortunately for Crowe, the film was almost universally disliked by the critics; our own Sean O'Connell wasn't impressed, and Aloha current sits at a deplorable 18% on Rotten Tomatoes.
Aside from Stone's casting, audiences took issue with the overall depiction of diversity in the film...meaning there wasn't much of any. A representative of the Media Action Network for Asian Americans remarked that Crowe's film makes it seem like caucasians make up 99% of Hawaii, while more still denounced the inaccurate depiction of the native cultures.
Your Daily Blend of Entertainment News
Thank you for signing up to CinemaBlend. You will receive a verification email shortly.
There was a problem. Please refresh the page and try again.