Why Some People Are Furious With Cameron Crowe's New Film Aloha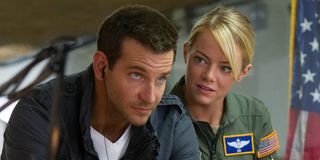 You would have thought that it would be difficult for a Cameron Crowe film to offend anyone. The man makes crowd-pleasing films. However, Asian-Pacific Islanders from Hawaii are incensed with the rom-com master, accusing Crowe of whitewashing their ethnic community while casting for Aloha, which is set in Hawaii.
The Media Action Network for Asian Americans (MANAA) have released a press release, which comes courtesy of the New York Post, that lambasts Aloha for its perceived lack of diversity when it comes to casting key roles. Guy Aoki, who used to reside in Hawaii and is still a member of the MANAA, explained:
Guy Aoki went even further by comparing Aloha to a number of Hawaii-based films that also have predominantly Caucasian ensembles. These included Adam Sandler's 50 First Dates, the surfer flick Blue Crush, and what's roundly acknowledged to be the worst Michael Bay film (and we all know that includes a vast list), Pearl Harbor.
But don't just think that it's only woeful films that have disproportionate ethnic casts, because the Oscar-winning The Descendants was also cited by MANAA as a prime example of a film that used Hawaii simply for its exotic backdrop and then excluded the native population when it came time to cast supporting roles. Aoki insists that this type of casting is "an insult to the diverse culture and fabric of Hawaii," and is bringing up the issue tied to Aloha to help prove his point.
In pointing out the places where Aloha allegedly stumbles with its casting, Aoki argues that the roles that have been made available to Hawaii locals in the film are only known as "Indian pedestrian," "upscale Japanese tourist," and "upscale restaurant guest." He even points out that none of these characters have names. (It's unclear, though, how Aoki or MANAA saw Crowe's film – that point isn't made clear in the NY Post report.)
What makes the situation even more complicated is that Cameron Crowe had previously taken to social media to insist that Aloha would riff off of the history of Hawaii and make it central to the film's plot, themes and aura. Aoki remarks that this statement proved to be completely wide of the mark, as he questioned:
Aloha does possess a terrific cast in the shape of Bradley Cooper, Emma Stone, Rachel McAdams, Alec Baldwin, Danny McBride, John Krasinski, and Bill Murray. However, it has been blighted with issues during production. Not only was its release date moved forward from December to May 29, but leaked Sony emails revealed that the studio behind it have called its script "ridiculous" and said that "it never, not even once, ever works." We'll see if it's all that bad when it's released next week.
Your Daily Blend of Entertainment News