Cameron Crowe And Gus Van Sant Turn Down Beatles Biopic Focusing On Their Troubled Manager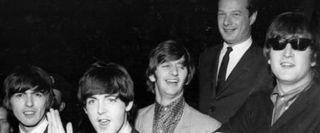 At some point way down the line, when Paul McCartney and Ringo Starr have left this earth and all the secrets can actually be told without the egos in the way, we may get a definitive biopic about The Beatles. Of course by then all the baby boomers might be dead as well, and there may not be anyone left to care about it. But in the meantime, a mere 45 years after the band's heyday, we continue to make movies that deal more indirectly with their legacy and life story. Last year brought us Nowhere Boy, the biopic about John Lennon's early years that never mentions the name The Beatles, and now the gears are turning for The Fifth Beatle, a film about the band's manager Brian Epstein.
Vivek Tiwary, who will make his writing and film producing debut with the film after years producing plays, announced to THR that he's secured a deal to include Beatles music in the movie, which the surviving Beatles and their estates have not endorsed but will at least allow to exist. Now it's a question of who will direct it; a separate source told THR that Cameron Crowe and Gus van Sant both passed on the job, but Tiwary remains steadfast saying "I would love to start production this year. I won't wait two years, but if the right director wanted us to shoot later, we have flexibility in financing." The movie will focus on Epstein's personal troubles, as he struggled with being gay at a time when it was actually illegal in the U.K.; he died of an overdose in 1967, after homosexuality was legalized and at the peak of the Beatles' fame.
Talking to THR, Beatles historian David Browne admitted, "Brian Epstein was a deeply repressed, unhappy guy. There's what seemed to be this happy world of the Beatles, and at the core of it this guy grappling with all these demons." The thing that I don't get, though, is that the world of the Beatles was distinctly not happy, especially getting into the later years around the time Epstein took his own life-- as much as we remember the band's iconic songs and mop tops, we remember the infighting and jealousy that eventually tore the band apart. Are people really dying to see another sad story related to the Beatles, especially one about a figure who's less famous? Not to say that Epstein's story isn't interesting or worth telling, but that securing the rights to Beatles music might put undue emphasis on the band, and get people thinking about the actual Beatles biopic they might want to see.
Your Daily Blend of Entertainment News
Staff Writer at CinemaBlend