Captain America 3 Could Have Larger Role For Crossbones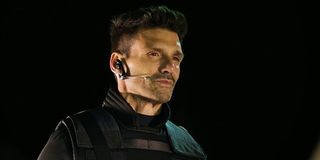 Spoilers for Captain America: The Winter Soldier to follow, if that's your kinda thing.
The end of Captain America: The Winter Soldier placed a lot of chess pieces on the board. One of them involved the survival of villain Brock Rumlow, the rogue S.H.I.E.L.D. agent played by Frank Grillo. He got plenty toasty in the aftermath of Hydra's failed plot to take over the world, but it seems certain he'll be back, as Rumlow in the comics becomes the evil Crossbones. And it looks like Grillo is more than ready to return.
Speaking to Collider , Grillo claims that while there's no script just yet, his Rumlow will be back in the picture very soon.
But are there actual plans for the character? If Grillo has his way (and Grillo should always have his way, because come on), yes. He explains to the site that he is "cautiously optimist" (his words, not ours) about returning to Captain America for the announced third chapter, adding that his costume "could be a mask with a crossbones on it."
Mic. Dropped!
Grillo, soon to be seen in The Purge: Anarchy is one of Hollywood's realest dudes, a character actor with gravitas who brings an old-school machismo to even the most thankless roles. It would be good if they gave him something to chew on in the Captain America sequel, however: Crossbones in the comics is little more than a mercenary with a grude against the Captain.
Grillo also revealed that he is also attached to the remake of The Raid, which begins shooting this January. He says that the film has been offered to him, and he's officially attached, but you never know in Hollywood. Speaking of Patrick Hughes' screenplay, Frank Grillo said "it's gonna be Americanized, but not overtly Americanized. It's really gonna keep a lot of what made the first Raid so great."
Playing one of the three main characters likely means Frank Grillo is either the villain of the piece or the captain of the police force, though it sounds like we can expect some major differences between the older and new versions of The Raid.
Your Daily Blend of Entertainment News
Thank you for signing up to CinemaBlend. You will receive a verification email shortly.
There was a problem. Please refresh the page and try again.